Excited about the next major Windows 11 update? This Windows 11 23H2 version is full of surprises and mark our words it's going to be very intriguing. This version is planned to come before the end of 2023. Let's see Windows 11 23H2 New Features now.
The crown jewel features of this update include a helpful AI assistant, a sleek and contemporary File Explorer, and the ease of cloud backup. In addition, a long-missed Taskbar feature has returned, as has native support for 7-zip and RAR files and customized RGB settings for your peripherals. There's also a dark mode in Paint, improvements to the Widgets Board, and a new Dev Home app designed specifically for developers. Doesn't it sound intriguing? Let's explore the specifics of these future additions that will enhance your Windows 11 experience. See: Windows 11 KB5027305 Build 22631.1835 with toggle switch for Cellular.
Windows 11 23H2 New Feature Updates: What to Expect?
Here are the Windows 11 23H2 New Features:
Windows AI Copilot
Cortana, you're out! Windows 11 will have an intelligent AI helper known as "Windows Copilot." It employs cutting-edge technology to comprehend complicated searches, commands, and context.
This helpful AI assistant seeks to increase your productivity by doing anything from adjusting settings and starting music to summarising papers and activating Windows activities. It is accessible via a sidebar that displays when you click its button on the Taskbar.
What does Microsoft have to say about this feature?
Familiar and Easy Access: For quick and simple access, the Windows Copilot button is conveniently situated on the taskbar.
Consistent Sidebar: The Windows Copilot sidebar functions as a personal assistant across apps, programs, and Windows.
Power User Experience: This Windows 11 23H2 update feature will enable users to take action, customize settings, and connect to their favorite programs easily.
All-in-One Convenience: It will also incorporate well-known Windows functionality such as copy/paste, Snap Assist, Snipping Tool, and customizing choices.
Content Manipulation: It goes above and beyond the basics, allowing users to request text rewriting, summary, and explanation.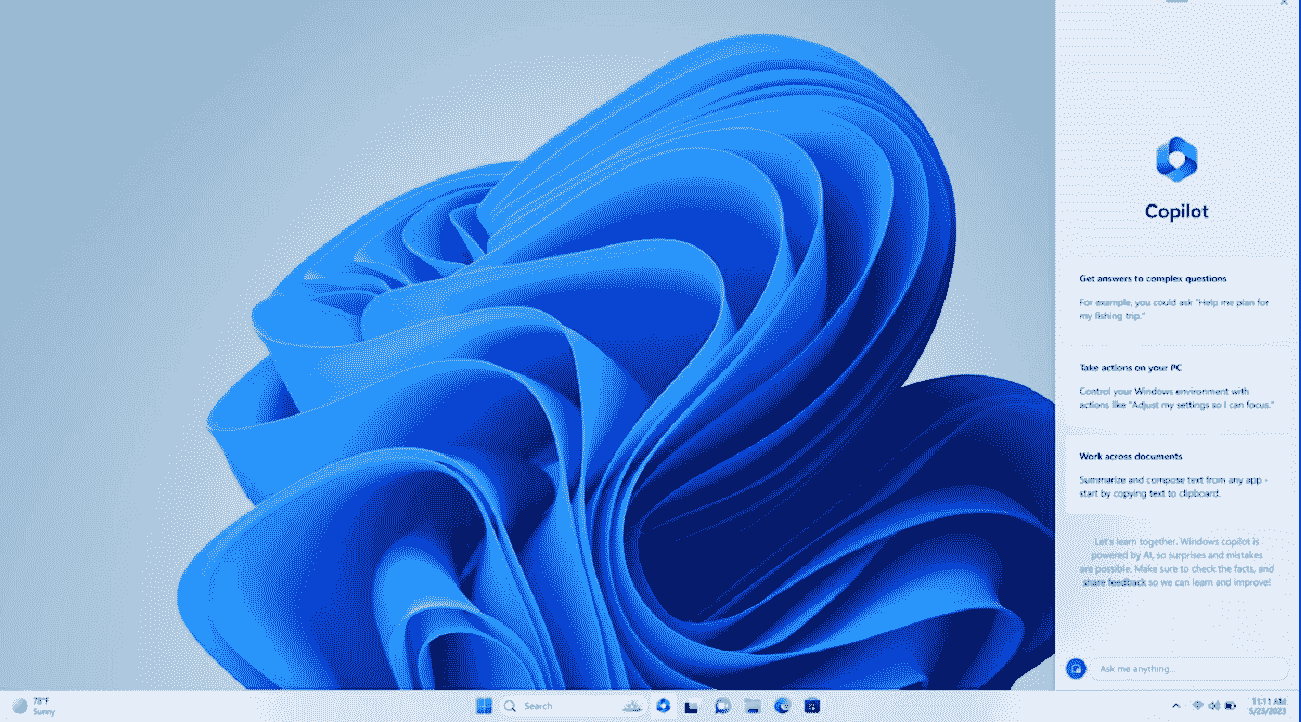 Modern File Explorer
Prepare for a more streamlined and contemporary File Explorer in Windows 11. This version includes tabs, simple navigation buttons, an address bar, and a search box at the top, as well as a revamped 'header UI' evocative of modern browsers.
The folder view, home page, and information pane have all been redesigned to provide a uniform experience throughout Windows 11. A new Gallery feature also improves photo viewing and editing.
Windows Backup
Finally, Windows 11 has a cloud backup utility. You can now back up your settings, data, and applications to your OneDrive storage with ease. Simply log in to your Microsoft account when setting up a new PC, and you'll be offered to restore your prior PC's settings and programs with a few clicks.
While only Microsoft Store programs may be restored, your settings and data will be securely kept on OneDrive.
Taskbar Ungrouping
A much-loved feature from prior versions of Windows is returning! Windows 11 23H2 update restores app labels and ungrouping on the Taskbar.
Labels may now be displayed for both running and pinned applications. This modification option improves clarity and usability.
7ZIP and RAR Support along with zip
Good news for everyone who frequently works with compressed files! 7zip, RAR, and other open-source archive formats are natively supported by Windows 11.
You will no longer need to download third-party programs to work with these file formats. Windows 11 has you covered whether you are using File Explorer, the desktop, or the file picker interface.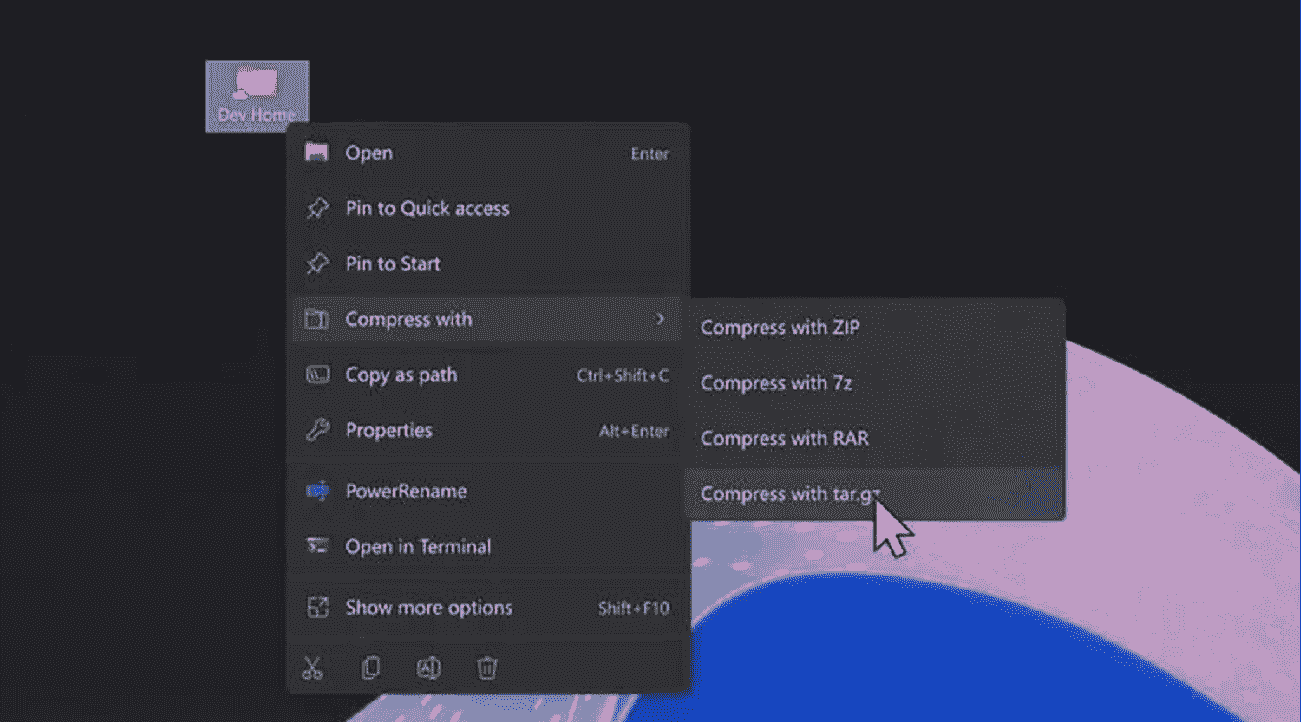 Peripheral Customization through In-Box RGB
Fans of video games, rejoice! By including RGB peripheral modification inside the Settings program, Windows 11 makes it easier to use.
Without the need for third-party software, you can now simply custom RGB settings on the keyboard, mouse, display, and other devices. Microsoft refers to this function as "Dynamic Lighting," and it provides a unified experience for customization.
Dark Mode support in Paint
Paint has finally accepted his evil side after 37 years! This is one of the most desired Windows 11 23H2 new features that adds a dark mode to the famous app, continuing a trend that started in 2015.
Along with the cosmetic enhancements, Paint now has a better-zooming capability, allowing for smooth and accurate zooming with configurable percentages.
Updates for Widgets Board
The Widgets Board in Windows 11 is receiving a makeover. More customization options, including multiple layouts for widgets and news feeds, will be available with the Windows 11 23H2 version.
You may segregate widgets from the news stream, mix them, or disable the news feed entirely. Finally, Microsoft is allowing users to eliminate the MSN feed, allowing them a more customized widget experience.
Windows Dev Drive or Dev Home
This one's for you, developers! The Dev Home app in Windows 11 improves the developer experience. It streamlines the creation of new development computers while also providing an overview of your machine, GitHub projects, and other features.
Connect your GitHub account to see the most recent updates and requests. Dev Home also contains widgets for CPU, GPU, Memory, and Network system monitoring. Windows 11 offers the Dev Drive feature, which allows you to build a system partition optimized for software development, particularly for projects with a large number of data.
Summing Up!
Thus, the Windows 11 23H2 update includes a slew of interesting new features that promise to improve your Windows experience.
Microsoft is focused on productivity and user enjoyment, from the intelligent help of Windows Copilot to the sleek and contemporary File Explorer. Cloud backup, Taskbar ungrouping, native support for 7zip and RAR files, and adjustable RGB settings all contribute to Windows 11's versatility and ease.
Microsoft dedication to supporting the different requirements of its customers is demonstrated with the dark mode in Paint, changes to the Widgets Board, and the developer-centric Dev Home app.
Windows 11 is intended to give a powerful and intuitive operating system that enables you to work, play, and create effortlessly with the 23H2 release. Prepare to embrace these new changes and fully realize the potential of your Windows 11 experience!
That's all!!