FTP (File Transfer Protocol) Client is a software program which is used to copy data or files from one system to the other over the Internet. Although, web hosting dashboard facilitates managing web files still a lot of users prefer installing FTP Clients to upload and update their website files. This is because while web hosting services provide basic web solutions to perform tasks, FTP Clients are very efficient in handling a bulk of website files with zero hassle involved. Today, this article will discuss those 9 Best FTP Client for Windows 10 Free You Should really Depend on.
So, let's get started.
How do these FTP Clients work?
Once you install this software, it connects to a server to manage all your files. Different FTP Clients retain a different level of security, reliability, and performance. It includes utilities like Protocol support, drag and drop functionalities, and instant synchronization. All these tools justify their part on why these are superior to the traditional web hosting services.
List of 9 Best FTP Client for Windows 10 Free
1: FileZilla
2: Cyberduck
3: FireFTP
4: Free FTP
5: WinSCP
6: FlashFXP
7: SmartFTP
8: FOFF
9: ClassicFTP
Now, let's have a brief on what these FTP clients look like and what features do they have.
See our another article – 10 PDF Reader Software for Windows 10 You may Rely on.
9 FTP Clients FTP Client for Windows 10 Free
1: FileZilla
This is a free cross-platform FTP Client which is available for environments like Windows, Mac OS, and Linux. It is the crown and most popular clients we have today. Most importantly, Filezilla is an open-source program sold under the terms of the GNU General Public License. It is often mismatched with Mozilla Firefox due to its name. That's why it is named as the Firefox of free FTP Clients. Apart from standard FTPs, FileZilla is also compatible with SFTP, IPv6 and FTPS.
Features:
Its Intuitive user interface provides a user friendly environment to start with.
It offers a tab-based interface that welcomes newbies easily and quickly.
FileZilla easily transfers large files (4GB or above) due to the Pause and Resuming transfers facility.
Automatic logging.
Directory Comparison.
User Configurable file transfers and bookmarks.
2: Cyberduck
Cyberduck is also one of the Best FTP Client for Windows 10 Free you Should Depend on. The software is compatible with both the platforms; Windows and Mac OS. Its looks are so amazing and mesmerizing that you'll enjoy each and every second of your task working with this FTP Client. Equipped with a lot of premium features, Cyberduck has a minimalist user interface. Also, Cyberduck is absolutely free and easy to install.
Features:
Unlimited support for SFTP, Amazon S3, WebDAV, FTP and OpenStack Swift.
Offers support for Google Cloud storage and Rackspace Cloud files.
An impressive Graphic User Interface.
Quick Look feature lets you quickly access your files.
Editors support feature to edit the files as desired.
Gives you the facility to check your Transfer progress.
Provides Synchronization of remote and local directories as well.
Also, it maintains history logs, desktop notifications, and bookmarks
3: FireFTP
FireFTP is famous because it lets you enjoy all the features of an FTP Client without leaving the browser window. It integrates itself with the Mozilla Firefox. FireFTP is not a dedicated FTP Client. Instead of a new window, FireFTP opens up in a new Firefox tab with all its features listed there.
Features
Supports Windows, Linux and Mac OS
Is compatible with protocols like SFTP.
Offers Drag and drop support to easy up fasten tasks processing.
File Compression facility to save space and data during transfer.
FXP support.
Proxy support.
Includes Timestamp synchronization facility.
IPv6 and File hashing also available.
Multiple-languages are available to customize the interface.
Moreover, a user-friendly interface makes it very simple to use.
Get FireFTP here
4: FreeFTP
FreeFTP is one of the easiest FTP Client for Windows 10 Free you can work with. It's so fast that a single mouse click can connect you to the destined server. To upload the files, simply click on the "Download" button. The drag and drop facility speeds up the desired File Transfer. Also, you can perform basic operations like renaming and deleting files in FreeFTP.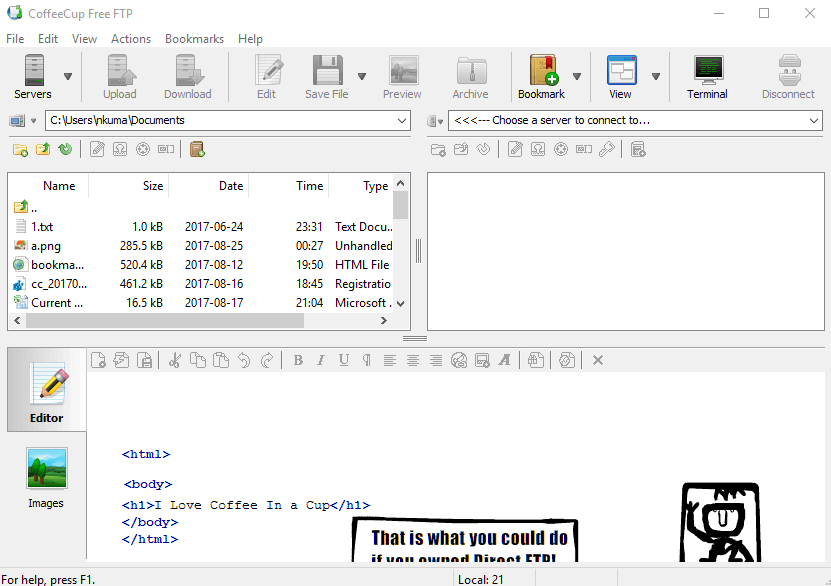 Features
A very intuitive interface which is also user-friendly and easy going.
A single click automatically opens up a lot of features and functions.
Provides a Dual-pane interface that allows transferring files between computer and the remote server.
Also, an activity pane to check the download progress.
5: WinSCP
WinSCP is one more free and open-source FTP Client for Windows 10 Free You Should really Depend on. As what the name indicates, WinSCP is very compatible with the Windows OS. Its flexibility is well proved by how it offers its dashboard in 38 languages to choose from.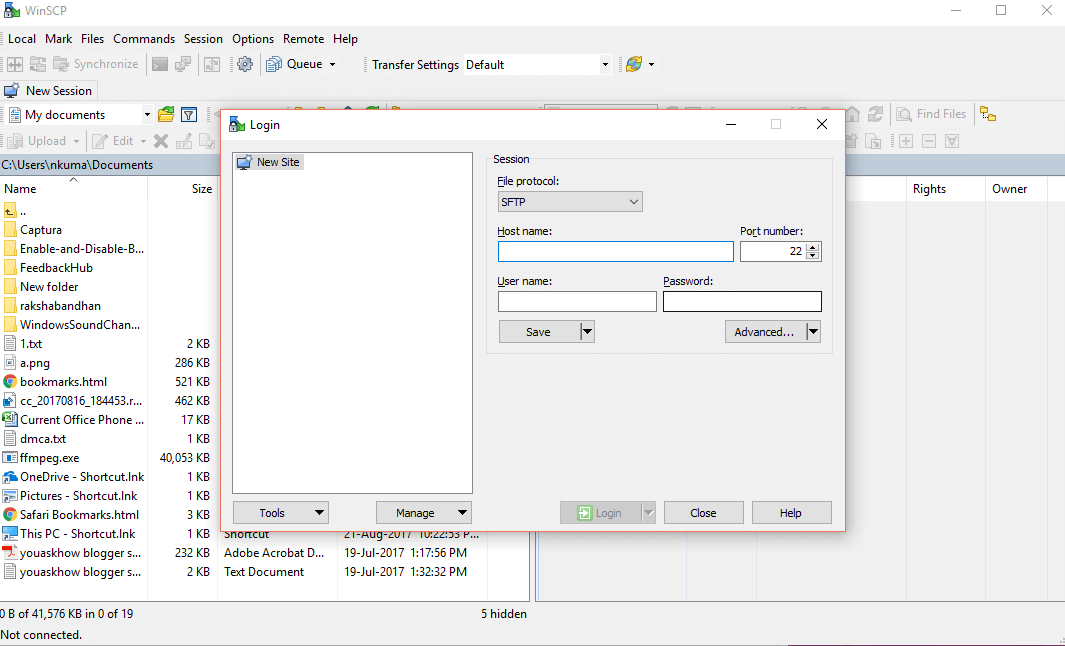 Features
Dual pane interface to quickly transfer files from the remote and local servers.
Gives a File Manager interface to organize your files.
Moreover, it supports features like duplication, changing properties, directory synchronization and moving.
Have support for all types of remoting such as FTP, SFTP, and WebDAV.
A simple GUI (Graphical User Interface).
Developer oriented because copying files are very secure.
6: FlashFXP
FlashFXP is another very user-friendly FTP Client recommended to all the Windows 10 users. It offers online video tutorials to learn from. FlashFXP does everything professionally. The software lets you customize the interface and selected files as required prior to the actual transfer. Its premium features are completely accessible even in its 30 day trial version. Also, it offers a very high security and integrity during transfers.
Features:
Supports FTP, FTPS, and SFTP with strong password encryption and security.
It is a Paid ($29.95) FTP Client due to which it is more advanced.
Windows Explorer similar interface eases transfers and integrity.
Integrated File scheduling system with webmaster oriented tools and utilities.
FTP Is compatible with both of the Windows and Mac Operating systems.
7: SmartFTP
This one is a paid yet effective FTP Client which has maximum compatibility with Windows 10. It's a complete powerhouse and you'll need to invest a few days getting used to it. Moreover, SmartFTP lets you connect to the servers via SSL or proxy. It also lets you backup important data to initiate and take note of transfers. Its pricing depends on the no. of users it has but its professional plan costs $59.95.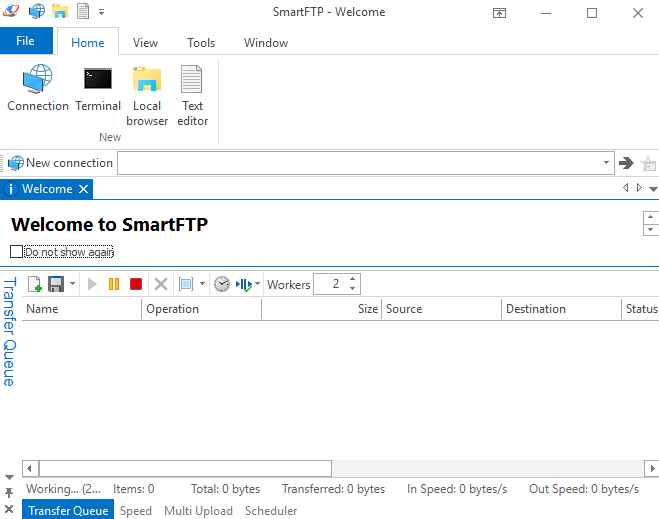 Features:
Global Queue to schedule uploads to multiple servers.
Site-to-site transferring facility.
You can set up multiple FTP Connections with this software.
Offers Initiate background file transfers to continue multiple tasks.
CHMODE Remote file attribute modifications facility.
Passive mode transfers are also available.
8: FOFF
FOFF stands for Free Open FTP face. It is a multiplatform client which is compatible with Windows, Linux and BSD operating systems. Its User Interface is very effective in managing all remote and local files. Moreover, FOFF offers very basic of what other FTP Clients provide in terms of features. This has made its user interface very friendly and intuitive, especially for Windows users. Single click automatically connects the user to the source server. Files are copied or transferred after forming these connections only. Also, it has a complete range of other advanced features like:
Features:
Image Viewer,
Audio Player,
Terminal window and an impressive User Interface,
In-built options for compression,
Is an open-source program due to which it is regularly updated and is highly customizable.
9: ClassicFTP
It is one of the most effective FTP Client for Windows 10 Free and is absolutely free. Resembling with other FTP Clients, it offers a dual-pane interface which makes transferring files between systems fast and easy. Also, this interface lets you easily navigate through files stored locally and remotely. You need to just select the files that you are going to transfer and hit the big "Directional arrow button" to initiate. Similarly, to synchronize the content you need to click the double sided arrow button provided on the interface itself.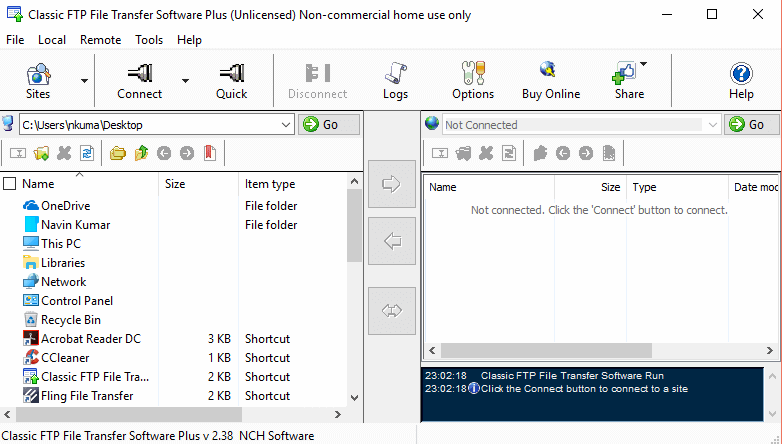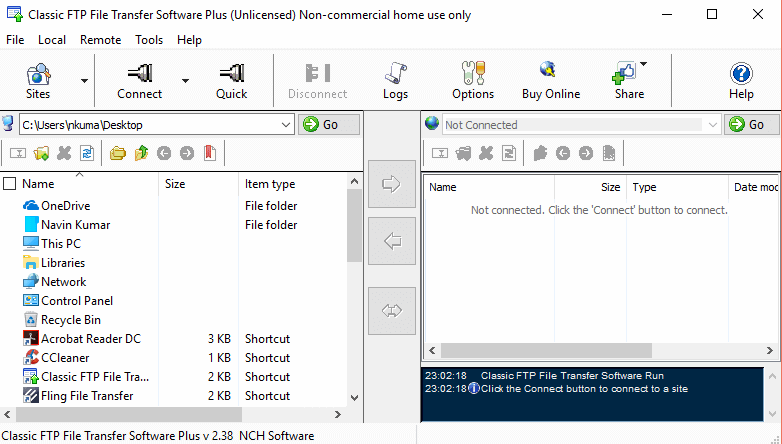 Features:
Is a very stable solution that substitutes the basic web-hosting solutions.
Supportive for each of the Mac and Windows operating system.
Class bookmarking and configurational capabilities are there.
Moreover, it is equipped with a Drag and drop functionality.
Synchronization tools are also provided.
Also, it is a premium application due to which all the advanced features are given along with the installer file
Final words on 9 Best FTP Clients for Windows 10
FTP Clients are really helpful during cases when you want to outperform the basic features of web-hosting services. While a lot of them are free, premium FTP Clients are paid. The only difference is that the premium ones provide more advanced features than the former ones. Moreover, their installation is very simple. Follow the links to download one from the list mentioned above. With these 9 Best FTP Clients, you can not only copy files between systems but can manage the uploaded files very easily. So, wrap up all your manual efforts and headache as what these FTP clients can offer you is really mind-blowing.
Tell us which one, what you feel, is the most functional one out of these 9 FTP Client for Windows 10 Free. Also, like and share this piece of knowledge for others. So, GOOD LUCK!