Microsoft has redesigned their popular web mail servicesHotmail.com into Outlook.com in August 2012. The latest Outlook.com is faster than other web mail services along with inbuilt easy user interface buttons. It helps you to show your email id less clutter and provides easy options to share your posts or contents with Facebook , Twitter or LinkedIn accounts openly. You can find and import your contacts on single platform of social accounts like Facebook, Twitter and LinkedIn.
Now if you use Google account (Gmail) as your primary account then you can switch it with outlook.com account easily.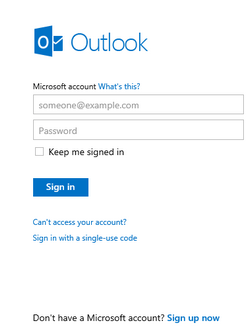 How to Set up Gmail in your Outlook.com account –
First step-1
Login your Gmail account and click on Wrench icon in right panel.
Now choose Settings option from drop down lists.
In next settings page, click on option – Forwarding and POP/IMAP at the top menu panel.
Then click on Add a forwarding address link under forwarding section.
Now insert your outlook.com email id in next page. Click Next button.

In next popup box, to confirm your action click on Proceed option.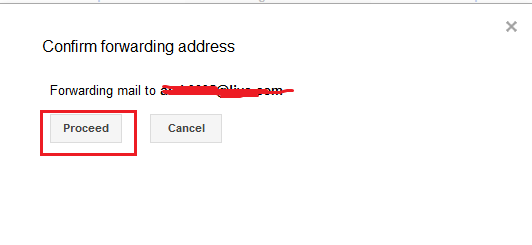 Now a confirmation email message will be sent on your outlook.com account in order to add forwarding email id with Google account.

Second Step
In previous steps, your Gmail account has sent a confirmation email message to your Outlook.com mail id.
So login your outlook.com account and search incoming confirmation Gmail message from inbox. Then browse this mail.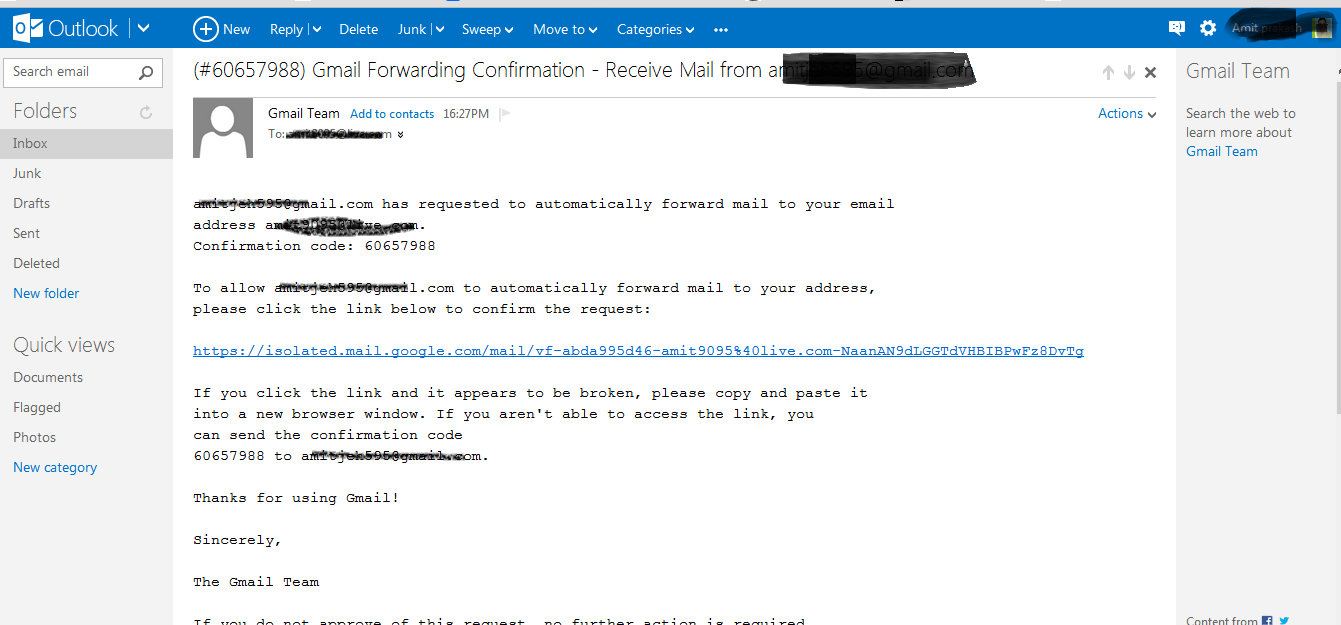 Now click on confirmation link from explored mail page here. it will forward a new mail on your Gmail account again.

Third Step
Again login in Gmail Account and go to Settings page from wrench icon under right panel.
Click on Forwarding and POP/IMAP at the top panel.
Choose this option from drop down menu – Keep  Gmail's copy in the inbox and check this tab – Forward a copy of incoming mail to
At last click on Save changes button from underneath to save new settings.
It will help you to such conditions when you delete emails in Outlook.com, your emails will be forwarded automatically in Gmail account.
Fourth Step-
If you wish to send emails from Outlook.com via your Gmail account, then you have to configure firstly in outlook.com account.
Login your outlook.com account.
Click on settings option on the upper right panel and choose More Mail Settings option from drop down panel.
 You will get options page now. Choose this option –  Sending and Receiving emails from other accounts.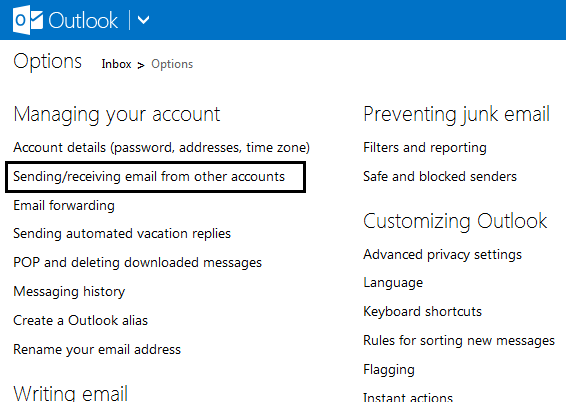 In the next page, click on  Add another account to send mail  from option at the bottom.
Then type your Gmail ID and click on the Send verification email option.

Fifth Step
Now, go to your Gmail account inbox and search new email from Outlook.com  that  headers will show like Outlook- Verify your email address.
Then browse this email and click on the verification link from midst screen.
Thus you are ready to send and receive emails from your Gmail account without signing in it. When you send any mail from your Google account, its records will be displayed also in sent folder of your outlook.com account.
Sixth Step-
How to Import Gmail contacts into outlook.com account ?
For it, hit on the arrow sign on the upper left panel of Outlook.com logo and choose People tab.
From people tab, you have to click on this option – Google contacts.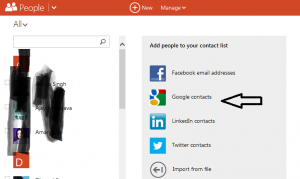 In next page you will get a pop up window which asks you to confirm about link with Google account.
Click on Connect button. Now type your Gmail sign-in details.
You will get a confirmation page and hit on the Allow access button.
 Finally another confirmation page will come and hit on the Done button.

 
Now you will get all Google account contacts in Outlook.com account in short while now. A confirmation message will come in your outlook.com account shortly.
If you wish to bring your Gmail  message in Outlook.com account, then you will have to configure  TrueSwitch service of windows Live. It will assist you to import all emails in few seconds.