The Fresh version of Internet Explorer 10 (IE 10) has come with Windows 8. As you know, Internet Explorer is built-in default browser of every Windows OS. Latest IE 10 is armed with several characteristics and one of them is Microsoft has the intention to make it better browser than Google Chrome. Its best characteristic is "Do Not Track".
Actually Do Not Track is an excellent option to protect all types of tracking through any websites that you surf. It is part of Internet privacy. It is turned on in Internet Explorer 10  (IE10) after installing windows 8.  Don't worry, you may deactivate the "Do Not Track " on single click from IE10 settings.
How to deactivate Do No Track in Internet Explorer 10 (IE10) in windows 8:
Start IE10 in Windows 8 computer and hit on settings button from right panel.
Next click on "Internet options" from menu panel.
Now choose  Advanced tab and go down to Security settings section.
Then uncheck the tab of this option – "Always send Do Not Track header".
At last, click on Apply and OK button.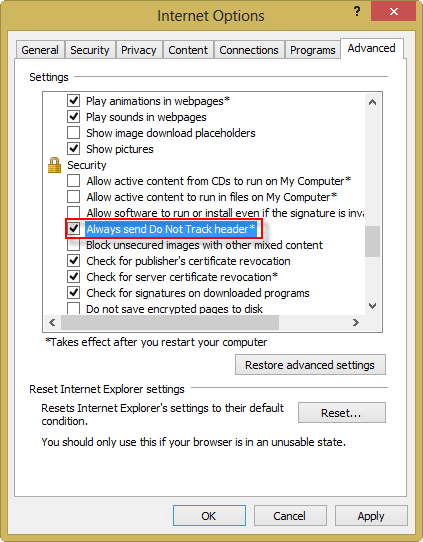 Thus you have deactivated Do Not Track feature in IE10 successfully. To reactivate Do Not Track feature again, follow same above process and check that tab which you have unchecked.