Methods and Steps for How to Fix Disk Cleanup Not working in Windows 10. – Junk files deletion is a necessary activity for users. Disk Cleanup tool is the most useful utility in the native environment of Windows in this regard. But many users complain that the tool (cleanmgr) refuses to start on Windows 10. For some other users, Disk cleanup freezes suddenly. One more issue comes into knowledge that it gets stuck during cleaning unnecessary files.
So here is the compilation of fixes Working for all the above issues related to Disk cleanup in Windows 10. The methods don't work means you will need to go for a clean installation.
Disk Cleanup Not working in Windows 10
You will find 4 methods to fix this issue. All you need to do is follow them one by one and once works this is for your machine.
Delete Temp Files to Fix Disk Cleanup issue
Step 1 – Click Win+R and write %temp% in the open window and click Enter.
Step 2 – Quickly the temp folder will become visible. So, select the available temp files, perform a right click, and select Delete.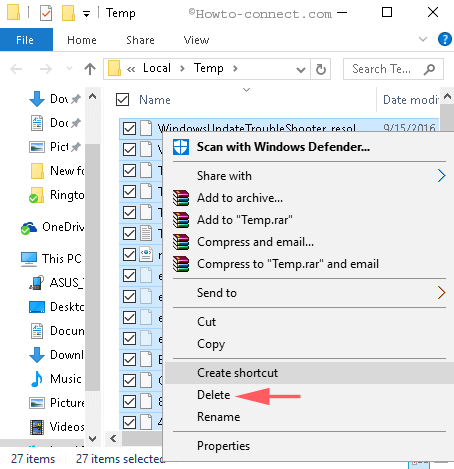 Return back to the tool and try to start it to see if it is working.
Fix Disk Cleanup Not working via Windows Update Troubleshoot
Many times Windows update becomes responsible for the Disk Cleanup issue. In this case, running a troubleshooter is the best idea.
Step 1 – Open Start menu by clicking Start icon placed on the taskbar. Type troubleshooting within the search box and hit the Enter button.
Step 2 – On the subsequent Window, click on View all link at the top in the right pane.
Step 3 – Find Windows update at the bottom of the All categories Window and click on it.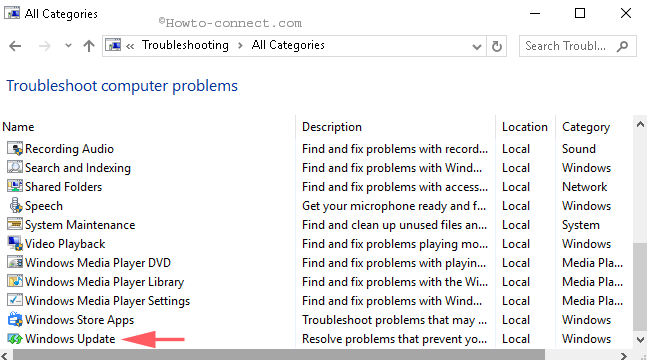 Step 4 – Click on the tiny link Advanced on the troubleshooter.
Step 5 – Click on Run as administrator link positioned in the right bottom section. Once The troubleshooter looks like just above image click Next.
Step 6 – It will detect the troubles if exists, so follow the on-screen guidelines to complete the troubleshooting.
Check if you have Fixed Disk Cleanup Not working in Windows 10.
Run System File Checker to Fix Disk Cleanup Problem
Step 1 – Click the shortcut combination Win+X. Select Command prompt (admin) on the list of available options.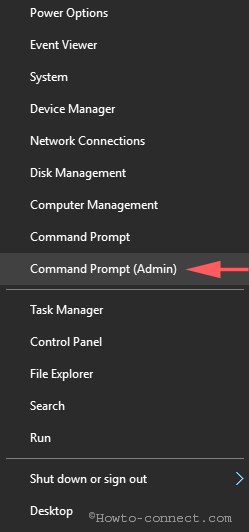 Step 2 – UAC confirmation dialog box will be prompted on the screen. To agree with this User account control, select Yes.
Step 2 – Copy the tool sfc /scannow from this line, paste into the elevated command prompt, and click Enter.
Step 3 – The scanning will take a short time, so Sit back for approximately 10 to 15 minutes.
Step 4 – If the report is correct then reboot PC and open Disk cleanup and see whether it is ready to clean garbages
Disk Cleanup Not Working Fix through DISM Tool
After following all the methods carefully, Disk Cleanup Not working in Windows 10 problem still remains then run DISM tool.
Step 1 – Open elevated command prompt as stated in Method number 2.
Step 2 – Copy the tool DISM /Online /Cleanup-Image /RestoreHealth from this sentence, paste into the command prompt and click Enter.


Step 3 – Again wait for the command line tool to execute for a period of time.
Step 4 – Check the result of DISM tool if it has found any error. If everything is OK then reboot your computer and launch Disk cleanup.
Conclusion
These 4 methods are sufficient and well proved and we hope will fix Disk Cleanup Not working in Windows 10 issue. If you find any error in the DISM or SFC scan results then overcome on your own. A clean install will be the last option for you in this case.
Repair any Windows problems such as Blue/Black Screen, DLL, Exe, application, Regisrty error and quickly recover system from issues using
Reimage
.