A number of users complain about Xbox Networking Problems while playing Multiplayer Games on Windows 10. The common issues are – Xbox one party chat disconnected, your network settings are blocking party chat Xbox one, etc. Taking these troubles into account, Microsoft includes a section Xbox Networking in Settings Application in Windows 10. This Section offers to Check again and Fix it tools to solve all the problems occurring during Playing Multiplayer Games. Follow a guide for the same kind of issue – How to Fix 0x807a1007 Xbox One Error.
So How to Fix Xbox Networking Problems in Windows 10 is the topic of this guide. Xbox Live, an online video gaming service owned by Microsoft. It allows to find friends, make online chat and play games with them. But it is very annoying when there are issues popping up in the middle of the game resulting in the stop of gameplay. Therefore build 16226 comes up with a solution to Xbox lover Windows Insiders. See the instruction to settle another issue – Fix: Black Screen of Death in Xbox One. See the workaround below –
Solutions to Xbox Networking Problems in Windows 10
Step 1 – To fix issues with multiplayer games on Xbox Live, press Win+I keys altogether and open Settings application. Now choose the Gaming icon from the application.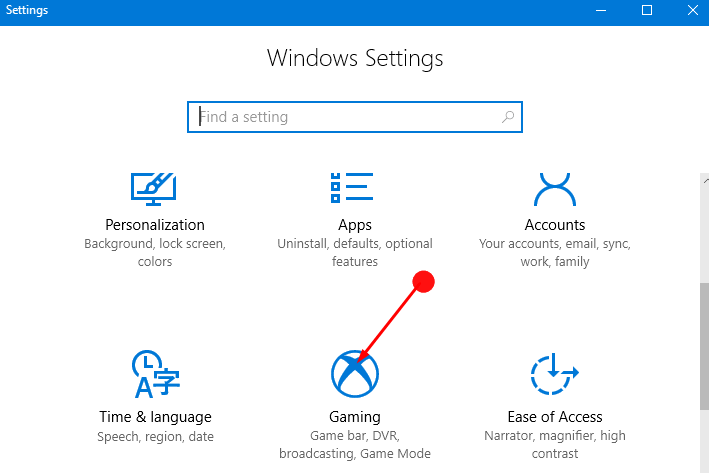 Step 2 – Select the option Xbox Networking from the list from the left pane. This option will be at the end of the list as it is the very latest addition.
Step 3 – The right pane will contain all the details of the current game as in the Connection Status and the Performance etc.
There itself is the option of Xbox Live Multiplayer which helps in controlling the Multiplayer games and fixing any sort of issues popping up here and there. From here itself you can check the issues in the Xbox game by clicking the Check Again tab and then fix the issue with the help of the Fix It tab.
Xbox Live is the talk of the town today due to its popularity among the gamers. We need to Fix Xbox Networking Problems in Windows 10 as they may cause a hindrance to the game. But with the advent of Windows 10 Build 16226.1000 for Insiders, it is now very simple.
Go through one more guide for How to Enable and Disable Game Monitor in Windows 10.
Concluding Words
Thus you see that the steps for fixing the issues with Xbox games with Xbox Networking section in Windows 10. This new build takes care of all the requirements of the users. Yet again it is important to say that these changes are now only for the Insiders to use but very soon it will roll out for the common users. So Fix Xbox Networking Problems in Windows 10 while playing Multiplayer Games using the settings app and enjoy ceaseless gaming.