Funny Face is a Windows 8 app to edit friends face in funniest way. Funny Face stores lots of various objects and also provides many tools for editing picture. Funny Face application supplies more than 200 objects. Different objects like glasses, hats, moustaches, hair and eyes are fun to use on your friend face. You can take a photo from your webcam or upload a photo from your storage device also. Edit the photo as per your choice. Funny Face application also provides a facility to add a text to your photo. Once you are done with all the change you can share it with your friends on social networking sites.
Recommended: How to Add Funny, Comic Effects to Photos on Windows 8 using Comic Tailor
How to use Funny Face Windows 8 App
Install the application from the link provided at last or launch it from the photo category of Windows Store.
After launching the app, the first page will show all your recent work. If you are using it for the first time, no recent work will be displayed.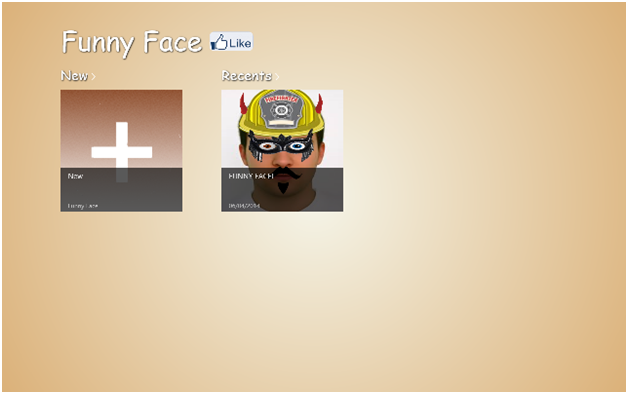 Click on the "New" option.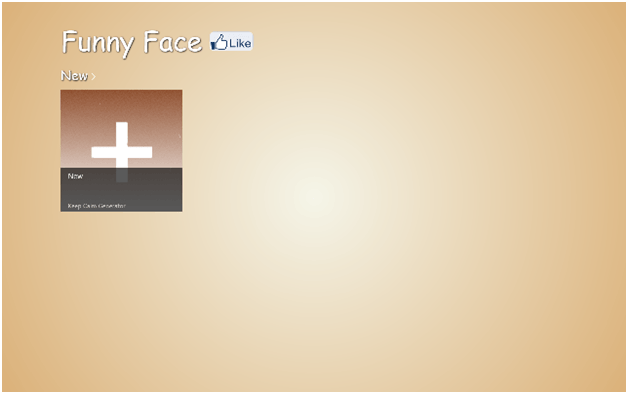 You can see a photo with all the objects displayed on top flyout and options on the bottom flyout of the screen.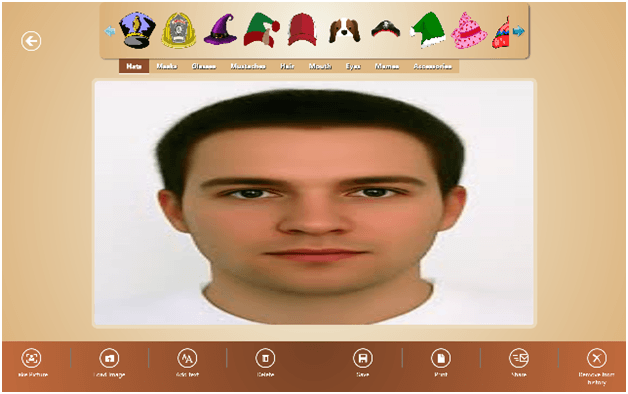 Create your own funny face using the objects.
Click on the "Save" option to save your work and after creating new funny face click on the "Share" option if you want to share it with your friends on social media sites.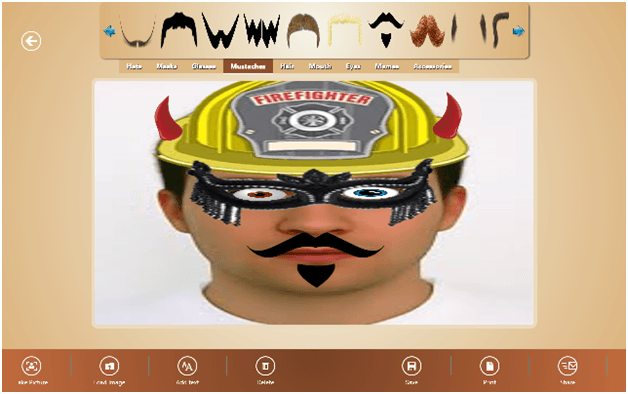 Options
Take Picture – Capture a photo from the webcam and create funny face of it.
Load Image – When you want to create a funny face of your friend which is stored in your computer, then click on "Load Image" option and upload the photo from your storage device.
Add Text – Add a text to your photo. Different tools like font family, color, shadow, font style and text align are available to use.
Delete – Click on the "Delete" option to delete the last change.
Save – If you want to save your creation click on the "Save" option and save it in your storage device.
Print – If you want a hard copy of your creation, simply go with the print option. Click on the "Print" button and finish your print.
Share – Share it with your family and friends by the share option.
Remove from History – Click this button and remove your work from the history. It will no longer be displayed on the recent work.
 Funny Face App Features
The application is not chargeable.
More than 200 objects are available.
Upload a photo.
Capture a photo from your webcam.
Add text to your image.
Print your creation.
Share it with family and friends.
Conclusion
Funny Face app is very easy to understand and use. With more than hundreds of objects available  to customize your photo and enjoy the fun. All the photo editing lovers should own this application. Customize funny photos of your friends and share with them and have a fun watching the creations. Launch this app and have a hearty laugh seeing the funny faces of your near and dear ones.