Microsoft Store always surprises its users by providing new and exciting themes, apps, games, books, entertainment, and more. One such interesting theme that the company rolled out is Gears POP! Wallpapers Windows 10 that consists of amazing seven 4K pictures. You can enjoy the characters of the video game outside the battlefield.
Only used as desktop wallpaper, you can grab this theme for free. Holding a small size of 22.08 MB, you can use this in at least ten Windows 10 devices. However, to avail this facility, you must get the theme using your Microsoft account. But ensure that your device meets all the specifications that the theme requires to run properly. So, let us explore more and see how to get this stunning set of wallpapers.
Download and Install Gears POP! Wallpapers Windows 10 Theme
Here is how to download and use Gears POP! Wallpapers Windows 10 Theme –
Click the Microsoft Store icon on the taskbar.
Once the app appears, search for the theme Gears Pop and select Gears POP! Wallpapers from the results.
As an alternative, you can also visit the official website of the theme and get it from there.
The Store will now display the information about the theme, click the Get button.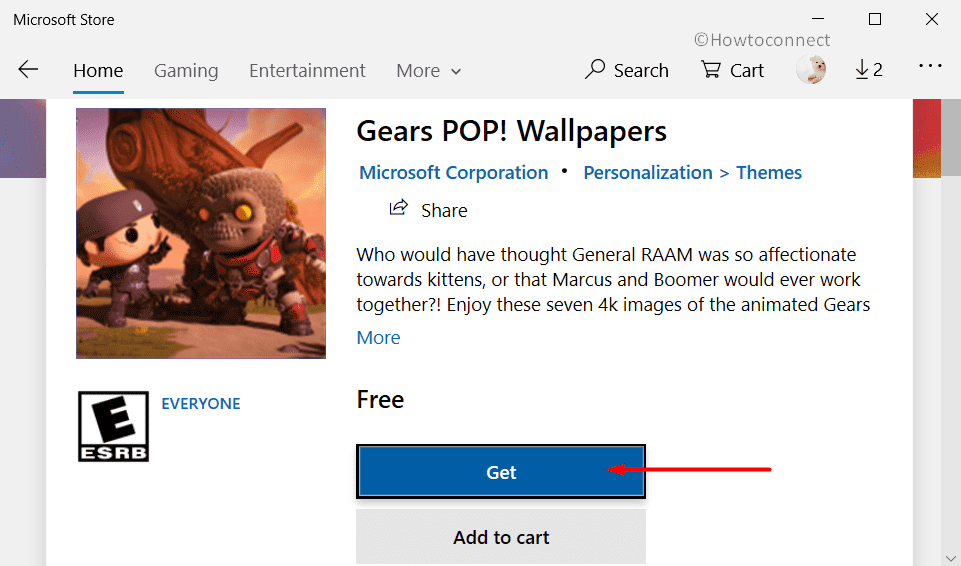 Wait until the system downloads and installs the theme for you. When done, click the Apply button to directly launch the Themes Settings page.
On the new window, switch to the right pane and choose Gears POP! Wallpapers theme.
Simply head to the desktop and you can view the Gears Pop characters on the screen.
System Requirements
Below is the list of prerequisite specifications that your device should fulfill to use Gears POP! Wallpapers theme –
Firstly, the operating system must be running Windows 10 version 14951.0 or higher.
The architecture required should be x86, x64, ARM, and ARM64.
Supports the English (United States) language.
That's all!!!