Microsoft is on a mission to enrich their personalization section as much as possible and to fulfill that goal, they keep releasing infatuate apps-especially theme in the store. Leafy Structures is one of the recent addition of Windows 10 theme group.
This personalize app is made of 14 colorful images of leaf showing a clear view of their branching veins. In addition, pictures comprised in this theme pack can be used to adorn your desktop background only.
Leafy Structures Windows 10 Theme
Here is how to download, install and apply Leafy Structures Windows 10 Theme –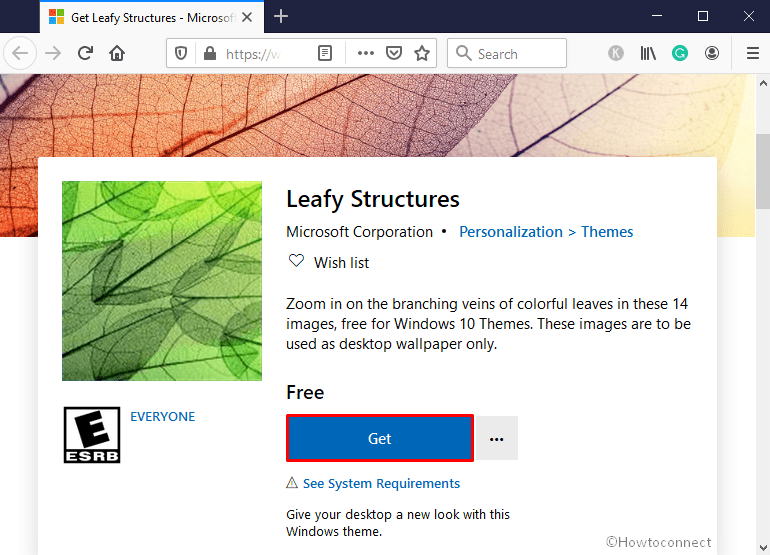 As an alternative, click on taskbar search and type store followed by hitting Enter. Once you come across Microsoft Store, take help of its search function to look for the Windows 10 theme we are describing. After viewing the same in appearing result, select Leafy Structures to enter into its inside information page.
Click the "Get" button once again to start downloading process.
After completion of the same, wait until the theme is installed.
Once you see the confirmation notification of this action, click Apply button.
Shift to the right pane of Theme settings page and click on the Windows 10 theme you just got.
System Requirement
Leafy Structures is pretty user-friendly at the same time light in size as it occupies only 9 MB of your hard drive memory. Getting this Windows 10 theme is absolutely free and people of all ages who use English (United States) as default language can avail the personalization pack. Yet, some basic requirements should be matched with your device moreover a Microsoft account is must to sign-in. Interestingly, using that same account, you can install Leafy Structures theme on up to ten Windows 10 devices. However, here are the fundamental preconditions your PC need to fulfill –
The operating system you are using must be equivalent to Windows 10 version 14951.0 or higher.
Architecture should be compatible with any of x86, x64, ARM, or ARM64.
That's all!!!!