Link Xbox One to Facebook Account on Windows 10. – Xbox one stores all the user's accomplishment, game data, and interaction with friends. In addition, Xbox one for Windows 10 permits to record ongoing games. So if a user likes to share his previous achievements on Xbox one the recorded clip would help. But for this kind of benefit, the former task would Link Xbox One to Facebook Account on Windows 10 formerly.
Playing a game with friends enhances enjoyment obviously but it's not necessary that the friends remain alongside you all the time. You know one can join the gaming fun virtually from anywhere. But the problem arises when you like to share your group moment with other friends. For this, you essentially need to Link Xbox One to Facebook Account on Windows 10.
Way to Link Xbox One to Facebook Account on Windows 10
Linking Xbox one to your Facebook Account is quite straightforward following the below-mentioned steps:
Step 1 – Open Xbox one either by clicking the respective tile on the Start menu. Alternatively, you can click the Start and write and click the Xbox (Trusted windows app) below the Best match.
Step 2 – As Xbox one opens you notice a small Facebook icon stating Link Facebook Account at the right-hand side on the upper part of the application. Click either on this link or Image.
Step 3 – Once you have pressed the above-mentioned link, Login to use your Facebook account with Xbox dialog box appears. Type either Email id or phone number in the upper box and the corresponding password in the lower box to your Facebook account and gently strike on Log in button at the bottom.
Step 4 – After the log in becomes successful the Xbox live will ask you whether you continue with Facebook, click OK.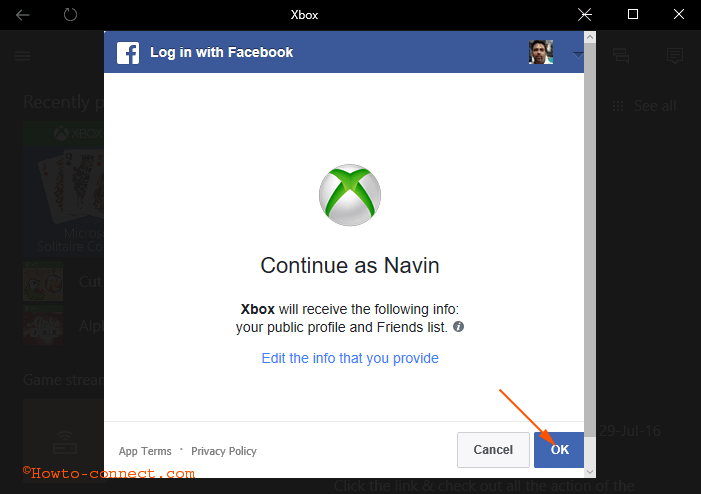 Step 5 – The subsequent pop up asks for Ready to connect with your Facebook friends. Click the Cancel button (Later you will have to connect manually).
Step 6 –  Once linked, you may use the suggested friends option to choose and share accomplishments.
You may also play with your friends and make an ordinary game very intrusive and interesting.
This Application automatically scans for the Facebook friends who are beforehand linked to Xbox one accounts. The Application then presents them as suggested friends in the name of their gamer tags in the upper right corner of the application screen to you. This is very similar to the 'Friends Suggestion' on the Facebook page which can be considered as an ideal example.
You will interfuse with the friends specifically who have beforehand linked Xbox one to their Facebook accounts.