Mahjong HD is Windows 8 app to match alike tiles on a puzzle board and remove to earn points. It is a Chinese originated game people on the web like to the extent of addiction. In this app, you will find this game in HD resolution having cool music, sound effects, new experience, and much more enjoying.
There is a small twist in the game which acts as the main rule of Mahjong. You can pair those two tiles to each other which are free. Free tiles are those tiles that are not surrounded by other tiles from three sides of it. Go on pairing and eliminating the similar looking tiles and your game will be over when you won't be able to make any further matching.
Recommended: Microsoft Treasure Hunt Windows 8 App – Play Adventurous Puzzle
Mahjong HD Windows 8 App Design
Interface of this application is very highly polished and attractive. As its name users bound to be charmed by High resolution of Mahjong HD.
You can see a board with 144 Chinese tiles having certain options on the top right of the screen. It is very simple and handy to play.
How to Play Mahjong HD Windows 8 App
Install the app from the link provided at bottom or own it from the Games category of Windows 8 store
After launching the app, you will see a board with 144 tiles set in a complicated manner
First, see which two tiles are free. Select them by clicking on the first tile and then on the second tile. When both the tiles match, they automatically get eliminated from the board.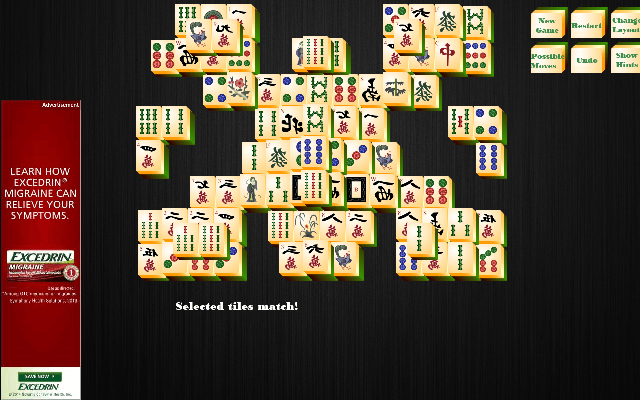 Go on matching and eliminating tiles from the board.
Once no matching is there, you win the game!
Other Options
New Game – Click on the New Game option and you will get a new game with different placement of tiles will get to play on.
Restart – Restart option resets your progress and furnishes the same set of tiles that you were playing with.
Change Layout – Six different layouts are there in the game. Each time you click the Change Layout button, a new arrangement of tiles will come up.
Possible Moves – Click on this option and there will be displayed the number of possible moves that can be done in the game.
Undo – When you want to undo your last move, click on the Undo option.
Show Hints – Two similar tiles will be highlighted that can be paired and eliminated from the board. Click on the Show Hint option when you cannot make out a move of yourself.
Mahjong HD Windows 8 App Features
It's free of cost.
Highly entertaining.
Six different layouts.
Restart game after pause.
Can show possible moves.
Undo the last move.
Take hints when struck.
Closure
Mahjong HD app is highly entertaining and very funny to find two similar free tiles. Its high resolution and sound effects take off enjoyment to a new level. Launch this application on your PC and find yourself how smart you are in finding two free similar tiles and how much you fair in this puzzle game!