How to Open Duplicate Tab in Edge Browser – When a web page denies or troubles to open your start attempting different ways to anyhow get access to it. The initial actions you take in this course are – copy the URL of the page from the address bar, open another tab swiftly in the running browser, paste the URL and promptly strike Enter. To bypass this lengthy procedure Edge Browser has arranged a choice on the right click contextual menu of the tabs Tab. We have previously demonstrated few supplementary tips on the topic tab management tools included during the recent past to Microsoft Edge, for instance, Close tabs to the right and Refresh all tabs.
Yes, this option is none other than Duplicate tab which allows you to open an identical tab having the same content. This is why we are writing here the steps for How to Open Duplicate Tab in Edge Browser Using Contextual menu.
How to Open Duplicate Tab in Edge Browser
Launch "Microsoft Edge" with the assistance of the preferred location whether it is "Start" or "taskbar".
Do a right-click of either of the tabs existing in the internet browser and click on "Duplicate tab".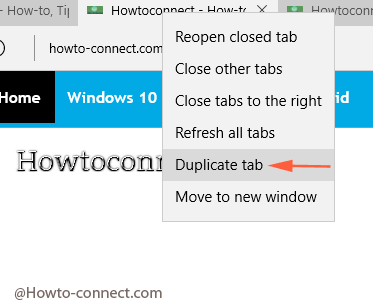 You notice a fresh tab swiftly opens beside the tab of Microsoft Edge you have chosen comprising the same web page and content.
Duplicate tab option is pretty similar to Duplicate of Chrome and Clone tab on Opera and Vivaldi, however, there is no rival of this choice on Firefox. It is a great convenience for users on Microsoft Edge if they use the tab management tools. It helps in fastening the browsing operation if you are on Windows 10. You know every day many new and significant developments are coming to this browser to enhance its user experience to a new height. Anyway, experience fast and cool browsing following the steps for How to Open Duplicate Tab in Edge Browser.