Windows 10 Build 17744 strikes up to the insiders in the Slow ring with KB4459375. The update includes various fixes for apps crashing, Cortana problem, Word online, Microsft Edge, and Narrator.  KB4459375 have a single target to solve the bugcheck (BSOD) when logging out of your user profile or shutting down your PC. KB4459375 is the update packaged includes a new design that Insiders builds can download and install more proficiently.
If you haven't got Windows 10 Build 17744 and KB4459375 till now, rush to Update & Security and check for updates. The update has some known issues too but you can expect to get solved in the upcoming builds.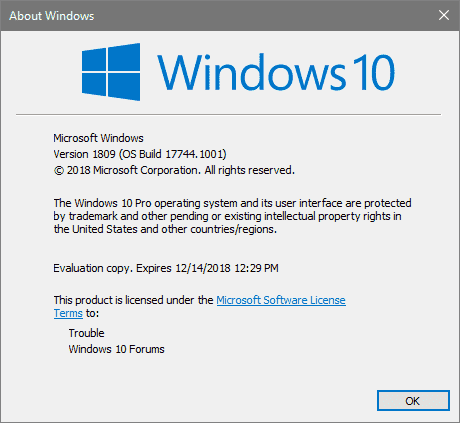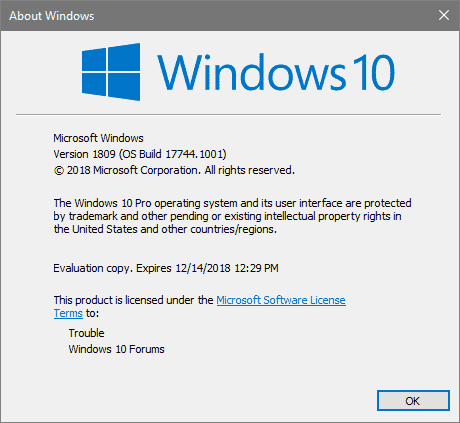 Windows 10 Build 17744 and KB4459375 Fixes and Improvements
Here are Windows 10 Build 17744 and KB4459375 Fixes and Changes details –
Windows 10 team solved bugcheck (Green Screen Of Death) at the time of removing a local folder that is synced to OneDrive. This was occurring in the Windows 10 build 17441.
The resolved the applications that were crashing when sending Timeline activities.
Microsoft fixed Cortana that was crashing when opening tips and performing web searches.
Windows 10 Build 17744 fixed Share UI missing for some users in the nearby sharing section although it was enabled.
\Windows 10 insider team solved contents of the Edge browser window was offset from its frame.
Windows 10 Build 17744  also resolved spell checking menu prompting in the wrong place when you right-clicked on a misspelled word in the Edge web browser.
Microsoft fixed an issue for Insiders in the Word online. It was not opening and Word Online document not working in Windows 10.
Windows insider team solved the Narrator and braille display problem. Now when you toggle the checkbox for this setting the displayed state is updated and you can view the control information is maintained.
Windows 10 Build 17744 for Slow ring Known issues
You may encounter a bugcheck when signing out of your user profile or shutting down your PC.
In Windows 10 Build 17744, Make Text bigger setting in Ease of access category doesn't work perfectly. You might get clipping problem where the size doesn't increase everywhere.
The Ease of access tool Narrator fails to read in the Settings app on multiple occasions when you switch using Tab and arrow keys. You should try to navigate to Narrator Scan mode for the time being. When you disable Scan mode again, the tool will start reading if you switch with the help of Tab and arrows keys. If this is not successful then you can restart Narrator to solve this issue.
When you set up Mixed Reality headset on this build at first with motion controllers, then the controllers may need to be fixed a second time before it is visible in the headset.
Source – Windows Experience blog.