Windows 10 Build 18267 release is out for the insiders who opted Skip ahead or Fast ring level. The update includes improvements in Input, Narrator, UI Automation framework IAccessible2 Support, Search Indexer, and fixes for Action Center icon, Settings crashes, and other.
You will receive Windows 10 Build 18267 via automatic Windows update otherwise go to Settings => Update & Security and click on Check for updates. However, you will get some issues known to Microsoft and they involve to find the resolution of the problems.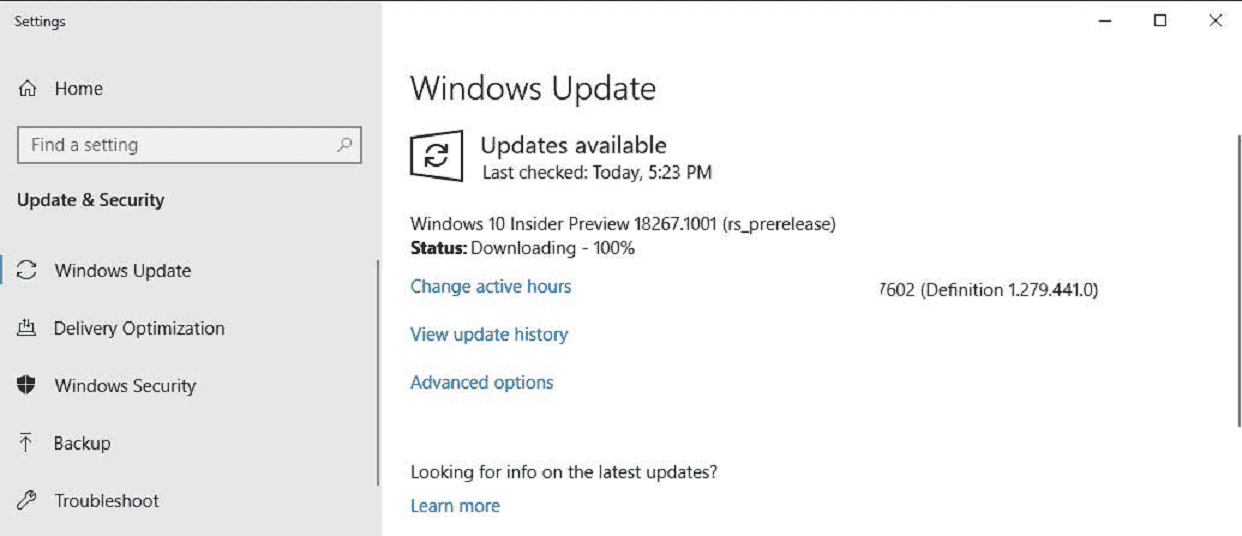 Windows 10 Build 18267 Features, Improvements, changes, and Fixes Details
As the builds in the Fast ring are in Development mode and Microsoft pushed them aggressively so the maybe inflictive. They suggest receiving the update in the Slow ring instead as they are more stable.
Changes in Input in Windows 10 Build 18267
Get benefit from Vietnamese Number key-based keyboards and Telex – For the users of this language, this is a chance. Vietnamese will enjoy the best possible experience during typing from this build. They are able to practics Vietnamese Telex and Number-key based keyboards. This new feature is available on both of the Physical and touch keyboard.
Follow the steps to start using the Vietnamese language on the keyboard –
Navigate to Start => Settings => Time & Language => Language from the menu.
Click + icon for "Add a preferred language" from the left side (or skip to step 4 when the Vietnamese was already added).
Type "Vietnamese" in the taskbar search and click on Vietnamese. Select the Next button and install the language on your device, which will get access you to the "Language page".
Choose Vietnamese and then click on the Options button. This will send you to Language options: Vietnamese.
Now click the + icon Add a keyboard or jump to step 7 if your target keyboard was previously added.
Turn on the "Vietnamese Number key-based keyboard" or "Vietnamese Telex keyboard" or  (according to your preference).
Click on the input indicator button from the far right of the taskbar (or press Windows key + Space). Select either Vietnamese Telex or Number-key based keyboard. Input anything through your physical or touch keyboard.
On-screen keyboard has more symbols – Now you can easily access extra symbols and special characters straight from touch keyboard. Change the number & symbols view (&123) on the onscreen keyboard. Simply tap ?  key to view multiple tabs with lists of symbols.

Accessibility Improvements
Improvement of Narrator to works better with Chrome – Up and down arrows in scan mode, tab key, continuous reading commands, and navigating by headings and links onward provide support for Chrome.
Narrator Braille – BRLTTY version 5.6 is now offered which gives USB support to Inceptor and Orbit 20 displays. Moreover, the BrailleNote Touch is identified when using USB. Baum displays can further apply B9 and B10 interchangeably. Liblouis binaries furthermore tables have been updated to version 3.7.0.
UI Automation framework IAccessible2 Support – The "UI Automation framework" will onward support translating "IAccessible2" information from Chrome, which supports "IAccessible2" instead of UI Automation. This makes UI Automation clients capable of getting the IAccessible2 information through the UI Automation client interfaces.
Enhanced Mode for Search Indexer in Windows 10 Build 18267
From Windows 10 Build 18267, Windows will search entire folders and drives available on your system rather than only desktop, documents, pictures, videos. To enable it, type Windows search settings in the start search, and select Enhanced under Find My Files. After approximately 15 minutes it will start returning these additional files in results depending on the bulk of files.
As the indexing gets over, you can find your entire files almost immediately. To avoid a folder from search, add it to the Excluded Folders list.
Windows 10 Build 18267 General changes, improvements, and fixes for PC
Windows 10 build 18267 solved Settings app crashing when invoking actions on some locations, moreover under Windows Security.
Microsoft fixes green screen with IRQL_NOT_LESS_OR_EQUAL stop code.
Windows 10 insider team solved Action Center might unexpectedly appear on the reverse side of the screen and then on the correct side.
They fixed Action Center icon sometimes display the number of unread but notifications missing Action Center.
Windows 10 team solved Settings app crashes on launch for a few users.
They fixed recently opened items displaying in jump lists despite Show recently opened items in jump lists was turned off in Settings.
Windows 10 insider team resolved the default Phrases Setting page for the Pinyin IME would hang once when you clicked any phrase in the list.
Microsoft solved Uninstall would still be displayed as an option when right-clicking apps in Start if the group policy "Prevent users from uninstalling applications from Start" was enabled.
They fixed if you don't get the result of searching for an inbox app with a version number longer than 20 characters.
Windows 10 team solved switching audio endpoints from the volume flyout in the taskbar not working.
Microsoft fixed launching inbox apps after updating problem for some users.
They solved a screen reader some words might read out some words even though word wrap was enabled on Notepad as two half words instead of one.
Windows 10 Build 18267 Known issues
Task View doesn't display + button in New Desktop after you create 2 Virtual Desktops.
While receiving this build, certain users will notice the update status cycling between Getting Things Ready, Downloading, moreover Installing. This often includes error code 0x8024200d caused by a failed express package download.
Task Manager reverts to default settings after making changes and reopening.
When you possess multiple OTF fonts or "OTF fonts" that support the "extended East Asian character set", you may encounter surprisingly missing text across the system.
Windows 10 Build 18267 Known issues for Developers
If you try to switch to Slow ring from fast after receiving any builds then optional content for example, enable developer mode will not work. You will have to stay in the Fast ring to install/add/enable the content. The reason is optional content is only installed on builds acknowledged for specific rings.
Source – Windows Experience blog.