Windows 10 Build 18342 arrived Insiders with a bunch of Improvements, fixes, and new features. As an inseparable part of April 2019 Update development (now 19H1), this one is ruling out now for those devices who have enrolled themselves in the fast ring.
Windows 10 Build 18342 as per the announcement, contains noteworthy developments for "Windows gaming technology". Alongside, noticeable changes are brought for Linux, a Windows subsystem, File Explorer, Windows Soundbox. Getting this update in the machine is super easy task navigating directly to Windows Settings => Update & security => Check for updates. If Automatic Update feature is not disabled, you will receive this build all by itself in the machine comfortably. Today, we will talk about the mentionable upgrades made on this build later in this segment. So, let's begin-
Windows 10 Build 18342 Features, Improvements, and Fixes Details
Making Windows 10 a Gaming Operating System
Microsoft introduced Windows gaming technology in Insider Build 18334 which was full-way popular among the uses love to play Games in machines. In spite of having few limitations, the attempt was considered as top notch feature in that release. However, Microsoft made those bug fixes in this build and you will be amazed to grab them in first chance. Coming to this release, you can run the games perfectly with enabling Parental Control. Moreover, a Gamer can install quite a large number of stable games which used to stick in "Pending" mode rather than "Downloading".
Citing an example of the game "State of Decay" Microsoft urges the users to restart it in case of having something wrong while playing. Once failed to retrieve, they can directly seek help from Feedback Hub in Windows which is pretty exceptional as well as exemplary. More slots are available in this game now and the previous build lacked in that. To access this new craze, just go to the Xbox Insider hub and make a click on Insider content to join. For the beginners, following steps to be followed for this game –
1)  Install Xbox Insider Hub Program on the device you will be using for Gaming Purpose.
2) Next, Sign in to the Xbox Insider Hub with your Gamertag.
3) Choose Insider Content from the upper left corner.
4) Scroll down to the bottom and select the Windows Gaming program (in the System section).
5) Join the program.
6) Follow the on screen instructions to accomplish.
After following the instructions above, if you still get some issues, you can directly contact with Microsoft Technician using Feedback Hub.
Linux Files inside of File Explorer
Microsoft facilitated its users in this Build 18342 making them enable to access Linux files in a WSL distro from Windows Operating System. They can access these files executing Command Lines as well as Windows App such as VSCode, File Explorer and so on. You just need to navigate through a simple path as following –
\\wsl$\<distro_name>
You can also see a list of running distributions by navigating to\\wsl$.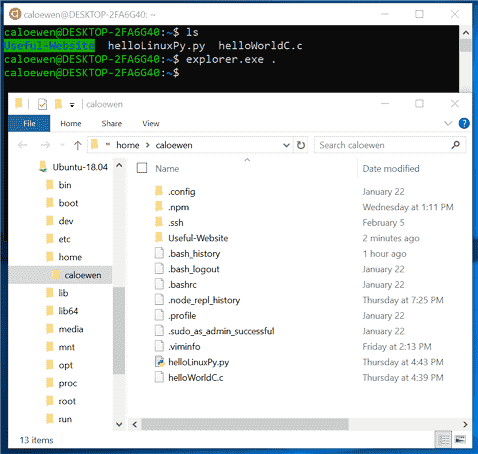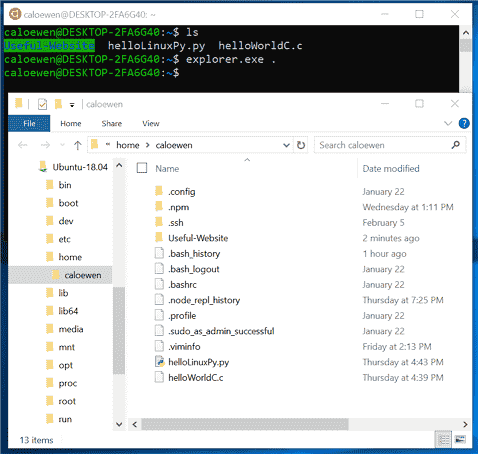 Brand New Chrome Extension in Windows Timeline
Coming to present Build, a new extension is available in Timeline that will collect all the activities from Google Chrome browser and adds here. This extension is available in Chrome Web Store and you can download from there in hassle free way. To access-
Sign in to the Extension on Chrome Browser with Microsoft account credentials.
Visit a website using the Browser and it will be visible in Timeline.
Pickup from where you have left off.
These activities in Chrome will also be synced automatically in the Microsoft Launcher App. These new changes will give you the best experience about Timeline ever.
Windows 10 Timeline is available for Chrome, Firefox, Opera, Vivaldi
Improvements in Windows Sandbox
With the introduction of new Windows 10 Build 18342, Windows Sandbox will have now captures shortcut keys in full screen. It will also bring help configuration files which will permit you to configure some dimensions of the experience, including shared folders, vGPU, networking.
Windows Sandbox was not beginning on localized builds and the problem is resolved now. Noticeable changes are done to enhance error reporting in Windows Sandbox. Nowadays, each error dialog will include the error code and a link to the Feedback Hub. Microsoft also solved Sandbox that was unexpectedly showing an error because of referencing a removed file under Windows.old.
Windows 10 Build 18342 General changes, improvements, and fixes
The new tamper protection setting is a built-in preference in this release. With the utility, Windows Security application safeguards the system by assisting to restrict bad actors from tampering with the significant settings.
The build has improved wsl.exe command line interface capabilities.
It brings enhancements like exporting and importing distros. Moreover,  the update comes with consolidating existing features from wslconfig.exe, for example, listing distros and setting defaults.
In the previous builds, the device used to crash and reboot on sign-in creating a boot loop in case Magnifier was turned on and set to docked mode. This issue is now completely normal and smooth while operating.
You can now log into WinRE with an admin account usually which was impossible before.
Significant fixes are applied for unpinned groups from Start where apps might result in thinking their tiles were still pinned.
Windows failed to rearrange the pinned folders in Start menu while showing in Tile Grid and the issue is okay now.
Downloads section in the Storage Sense had unwanted characters in it and that is pretty normal in this release.
Settings app often used to crash while opening "Advanced Display Settings" from Display Settings which is fine now.
Significant changes are made on the issue of after changing an app's audio endpoint, it might no longer follow master volume changes.
You can now add a drive to the list of folders while excluding for setting Search in Settings.
Making a right click on the desktop will not bring up a light colored context menu in dark theme from now.
Emoji Panel and Clipboard History reliability got new shape and impact.
The issue of Windows logon to forget the last logged on user, and instead would display the sign-in prompt for the default user from the list after dismissing the lock screen is fixed properly.
Users could not turn on some of the Real-Time Protection options for Malwarebytes Premium and now this is normal.
Menu Bar in the Internet Explorer was not appearing even after enabling in the previous builds which is good to go now.
CDPUserSVC service used to occupy unexpectedly large amount of CPU for long time and Microsoft made amazing changes to free up space.
There was an error ending up with DWM crashing frequently for some Insiders on the earlier flight which is quite normal in this build.
At a resolution lower than 1920×1080 and certain games used to convert into a black screen or not responding state in full screen mode which is normal now.
You can now quickly switch between the ongoing games using Alt+Tab hotkey which was impossible before.
Significant lags while playing Video and Audio files in the projector is smooth after introducing the Windows 10 Build 18342.
You can now experience single click Turning Off Location from the Action Center that would need multiple clicks to react in the past builds.
Microsoft fixed an issue that was resulting in single Unicode character insertion failing for IMEs, the touch keyboard, and the Emoji Panel in certain types of edit controls in Windows 10 Build 18342.
The problem resulting in the left and right arrows on the touch keyboard inputting 4 and 6, respectively, in certain languages is no longer prevalent.
Newly Installed apps will show up in the Search Result from now on which is pretty handy.
Soon after rotating the device orientation to vertical from horizontal the search pane used to be truncated once launched. The idea was pretty annoying and this is no longer valid.
There was a high impact issue resulting in decreasing in Start reliability in past builds which is normal now.
In the past build, if you would hide the search icon in the taskbar, a number of win32 apps would unexpectedly redraw when opening the Start menu. The issue is not valid coming to Windows 10 Build 18342.
Microsoft declared a significant fix for unexpected flickering while using pen or touch in some win32 apps to launch a second instance of the app when in tablet mode.
While creating a File name or renaming it, dot character was not acceptable. For long time users have suffered a lot for this issue in File Explorer. By now, you can insert a file name such as ".gitignore" with any problem
Potential hanging of the File Explorer while user trying to move, delete, or rename MKV files is not gonna happen from now on.
You can now smoothly open the Cortana Search in Tablet Mode.
Blinking of Taskbar if an AC adapter is attached when the device had less than 20% battery is fixed now.
Taskbar will not disappear suddenly when dismissing Start/Cortana/Search on a secondary monitor used to happen previously.
The new name of the Theme "Windows Light" is "Windows (light)".
Cortana icon on second monitors will now change colors after switching between dark and light theme in this build.
Microsoft solved light theme+small icons+a vertical taskbar orientation, text written on the taskbar would become white so won't be readable.
All the Apps shown in the taskbar will open in a single click without any trouble.
This build has solved DWM crashing after turning on high contrast.
With the Windows 10 Build 18342 upfront, size, and color for Ease of Access Cursor and pointer settings, the mouse pointer is retained. Unfortunately, there is a remaining issue with mouse pointer showing white color instead of the selected color after signing out and signing back in.
Pointer has changed the shape significantly ending up with the smooth pan while using the Magnifier with larger pointers.
You can now change the Orbit display while using the Navigation mode.
When Reading a PDF document, the narrator will not pause anymore as the past builds rather will have a smooth operation.
Users can now easily switch between insider rings which was unthinkable before.
No more displaying of Unknown status in the Windows Security app for Virus & threat protection even if not refreshed properly.
Windows 10 Build 18342 Known issues
Few things are still prevalent after coming to the latest build and Microsoft is trying to get over them. Soon the fixes will come accordingly in the next release about below issues –
i. Opening games that use using anti-cheat software often trigger a bugcheck (Green Screen Ofeath D).
ii. Malfunction of Creative X-Fi sound cards is still persistent.
iii. Night light Readability needs more improvement and the technical squad is working on it.
iv. Users still will need to initiate an extra reboot to make Reserved Storage working when performing Reset this PC and selecting Keep my files on a device.
v. Fixes are necessary for Some Realtek SD card readers.
vi. Setting application crashes every time in Windows Sandbox when you attempt to go to the Narrator settings.
vii. Improperly switched Mouse pointer color still exists after switching to white after signing out and signing back in.
viii. Several games having Chinese version is not working and the technical team is investigating the issue.
Known issues for Developers
In case of installing any of the present Builds from the Fast Ring as well as switching to Slow ring, Enabling Developer mode will not succeed being an optional content. As a result, being a developer, you have to stay in the Fast ring to Install or add even for enabling the optional content. The reason for this issue is, optional contents can only be received by the builds approved for particular rings.
Windows 10 Build 18342 Limitations
Few Processor models cannot receive the mentioned build due to an Associated Standby issue. The processors are as follows –
• Intel64 Family 6 Model 142
• Intel64 Family 6 Model 158
You can easily check if your processor falls into these two buckets using the following guidelines –
Step 1: Make a combined press of Win+S hotkeys from the keyboard and invoke Taskbar search on screen.
Step-2: Type "Device Manager" in the search box and select it once visible in the search result.
Step-3: once it is loaded in a separate window, scroll down to Processors and Open up the group
Step-4: Perform a right-click on one of the processors listed (you will see multiple for each core of the CPU).
Step-5: Choose the properties option and go to the Details tab.
Step-6: Select Hardware Ids in the property dropdown.
This will give you the model number of your processor.
Source – Windows blog.