It is said 'Music is the soul of life and one can't imagine life without music'. Since early days we have been fond of various type of music. Devices like Radio, TV, iPod and MP3 players are relatively common, and latest entrants of Online Music Streaming mulls music world. Online Music Streaming is lightening fast and accessible from anywhere in the world at World Wide Web.
Lots of websites, named as Google Music, Pandora, Bandcamp, Soundcloud, Turntable.FM etc are offering Online Music Streaming. It is seen multimedia keyboard are failed to run Online Music Streaming. To solve this issue, Google has developed an extension for its Chrome browser. The Chrome Extension is called 'Unity Music Media Keys'. Once you install this extension on Chrome browser, You will be able to customize Multimedia Keyboard to operate Online Music Streaming. Now, I am going to mention successive steps to install chrome extension called Unity Music Media Key.
To install 'Unity Music Media Key' extension, You will have to access Chrome Web Store and then after select Unity Music Media Key applications. Point-wise presentation could play major part to install and run this extension.
 Go to Chrome Web store and select Unity Music Media Key application. You may access proper location after Clicking Unity Music Media Key applications.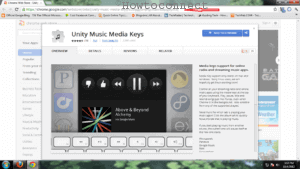 After then click 'Add to Chrome Button' and also grant permission to add Unity Music Key in Chrome.
The Chrome extension 'Unity Music Media Key' works on not only Windows OS, but also on Mac OS.  However Linux OS does not support particular chrome extension, but in near time customization to run Online Music Streaming will be available also for Linux OS.