Methods and Steps to Connect to Teamviewer Partner Without Password.  – Teamviewer allows remotely access users sitting far or near all around. But before setting up a connection with somebody you need to enter his Partner ID after then Password. Partner ID is static and changes when you uninstall Teamviewer and then install it again. But the password varies every time you access the software. For the Admins who frequently takes subordinates on remote needs to ask his credential and type. This creates an annoyance while asking the partner's credentials and writing the same for confirmation.
But fortunately, a tip exists and lets Connect to Teamviewer Partner Without Password. Earlier we have presented a guide on Whitelist and Blacklist Partners on the software. Once you whitelist a partner you can disable random credential for him.
Connect to Teamviewer Partner Without Password
So first of all, whitelist the user for whom you want to access without the intervention of credentials.
Whitelist Partner
Step 1 – Open Teamviewer and press Extras shown at the top menu bar. After you experience a drop down, select Options.
Step 2 – Click Security in left hand side pane.
Step 3 – Navigate the respective right pane and click on Configure. This prompts a pop up where you will need to whitelist a partner.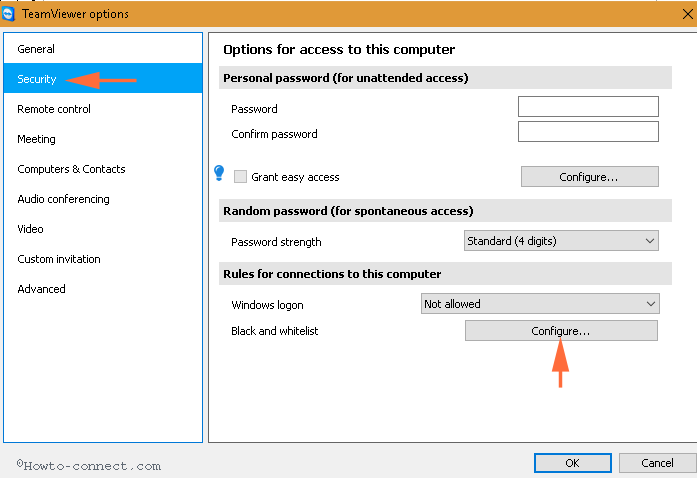 Step 4 – Check the option Allow access only for the following partners and press Add.
Step 5 – On the next pop up, Write the credentials of Teamviewer carefully. After you have typed the Email address as well as credential correctly click Finish.
Step 6 – Choose the partner you require accessing spontaneously without getting a password and click Add.
Disable Random Password
Step 7 – Now return back to the Teamviewer options Security tab and locate the option Random password (for spontaneous access) in the right pane.Under this option, click on the drop down just after Password.
Step 7 – Select Disabled (no random password) for avoiding the same every time.
Connect to the specific Teamviewer Partner you have whitelisted right now and ensure that it is not demanding the credential.
However, when you customize to disable the password in Teamviewer one question remains unanswered. When you become capable of connecting a partner uninterruptedly security hole is created. You can use this application to either sneak data of the individual or spy him on his system. The Answer is hidden in the first part of the article. This tip is useful for the administrators who handle multiple users and for this take help of this software. They already have control on user's system or permit them to use only with the local account.
Conclusion
So the process for How to Connect to Teamviewer Partner Without Password is pretty simple. Once you have tweaked the things you will not get the box for entering a credential anymore.