Sharing Videos, Images or Web Pages on across Social Networking Websites is never been an easy task. It is a time-consuming act to open social networking sites simultaneously then share materials like  Videos, Images or Web Pages. Sooner or later you feel exhausted to open more than single networking sites for sharing acts. Google develops an application called 'Cortex' to help users in act of sharing lots of images, Videos or Web Pages on multiple Networking websites.
Use Cortex Chrome Extension to Share on Facebook, Twitter, Gmail on a Place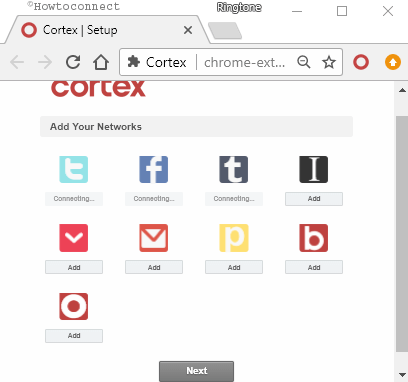 Cortex is a Google Chrome extension (maybe said app), which allows users to share Videos, Photos, Graphics, Links, Web Pages on numerous social networking websites. In fact, this application supports networking sites like Facebook, Twitter, Tumblr, and many others. Users want to share lots of files that are required to install Cortex extension on Chrome browser. After installing users are taken to Cortex set up page, where they can link their Networking websites. Here, they need to enter their accounts details after which users can go ahead and start sharing activities. Now, I am going to demonstrate the way of installation of Cortex extension for Chrome browser.
Open Chrome Web store after then apply searching for Cortex application. You may access location of the extension quite easily after Clicking this link here
Then after click on 'Add to Chrome' button and it will allow add-on Chrome.
Now add networking websites to use sharing platforms also log in to these Social networking websites.
At last grant permission to log in to Social Networking websites.