Lots of work are always around the corner for the development of Microsoft Edge. To make it more stable, the team is adding various features but right now their main focus is to add a dark theme. Yes, you are right, you can pretty easily Enable Dark Mode for Web Contents on Microsoft Edge browser. It is already available in Google Chrome and the software giant is introducing it to the Edge as well because both the browsers share the same engine. Though the feature was present in the preview builds, the team added an experimental flag that would force websites to use night mode. It means that once you enable it, the experimental flag will turn the light colors with the black ones. So, let us explore the steps and see how to use this feature –
Way to Enable Dark Mode for Web Contents on Microsoft Edge Canary
Here is How to Enable Dark Mode for Web Contents on Microsoft Edge –
First and foremost, ensure that you are using the Edge Canary browser (version 80.0.317.1 or higher). In case you don't have it, download and launch it.
Once you have it on the screen, go to its address bar, insert the following and hit Enter.
edge://flags
In the Experimental page, search for dark mode. This would display the flag namely Force Dark Mode for Web Contents.
Click the drop-down corresponding to it and choose Enabled.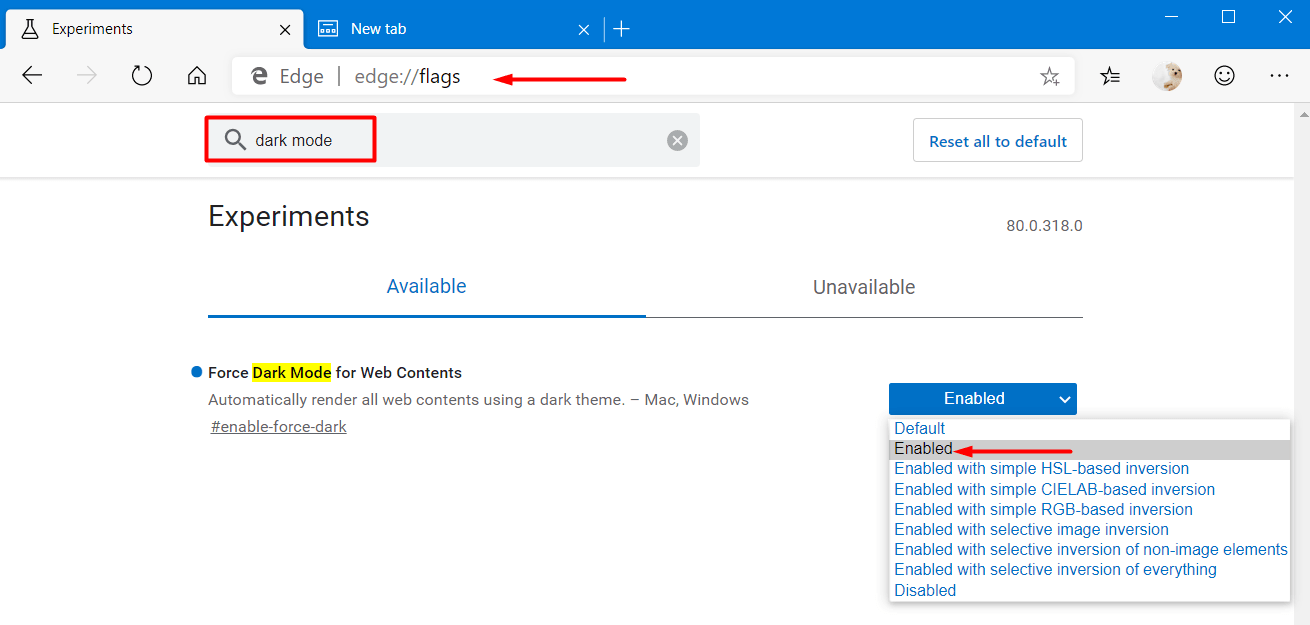 You can also select the other algorithms provided on the list to test which one works best for you.
This would immediately show a message at the bottom of the browser, click Restart. After the reboot, you can enjoy the web contents in dark mode.
As of writing this article, it is working fine for the majority of websites but there are certain elements still present that do not render perfectly. It messed up some colors which eventually makes the text unreadable. However, you can definitely give a try to this in Microsoft Edge Canary and follow the above-mentioned guidelines to enable the feature.
See more posts on Microsoft Edge Canary –
1] How to Delete Cookies in Chromium Microsoft Edge Browser (Canary/Dev)
2] How to Clear Cache in Chromium Microsoft Edge Browser (Canary/Dev)
That's all!!!