To provide an extra layer of protection to your PC, you can Enable Isolated Browser Environment In Microsoft Edge. Using Hyper V technology, this features basically isolates the built-in browser Edge at the hardware level. By doing so, it will ensure that no untrusted sites can send malicious codes to your computer.
This isolation of Edge is actually carried by Windows Defender Application Guard (WDAG) feature. It is not new to Windows 10 and was introduced with Fall Creators Update. However, with the release of 'Windows 10 April 2018 update', it is also available for devices running Pro version. But it will only work if the processor supports virtualization.
Enable Isolated Browser Environment In Microsoft Edge
Way-1: Through Windows Security
Note: This method is only available for those users who are running Windows 10 build 17713 or higher on their computers.
Step-1: Open Start Menu and type Windows Security. When the Best match displays the same, hit Enter. In addition, clicking the shield icon on the notification bar also launches the built-in security application.
Step-2: On the main interface of the application, click App & browser control.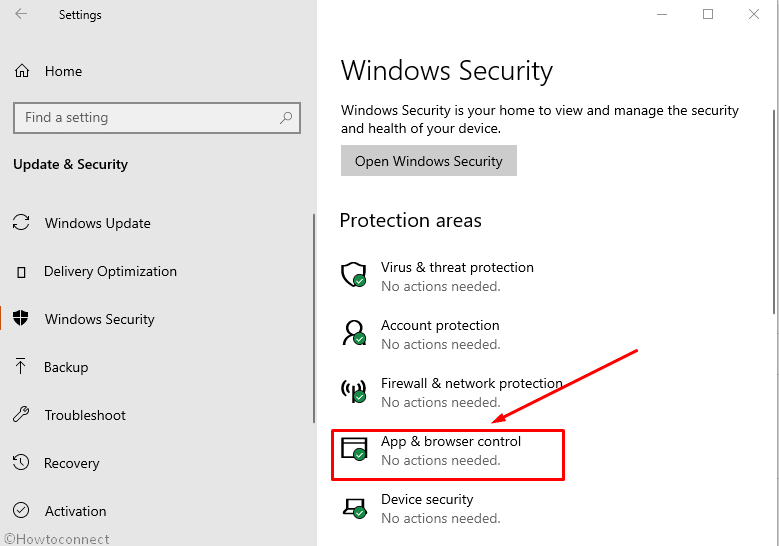 Step-3: Perform a click on "Install Windows Defender Application Guard" link on the following page (see snapshot). You will notice it just below the Isolated browsing section.
Step-4: In case, UAC prompts up on the PC screen, hit the Yes button to proceed ahead.
Step-5: This will immediately launch the Windows Features box. Here, ensure to checkmark the boxes namely Hyper V and Windows Defender Application Guard respectively.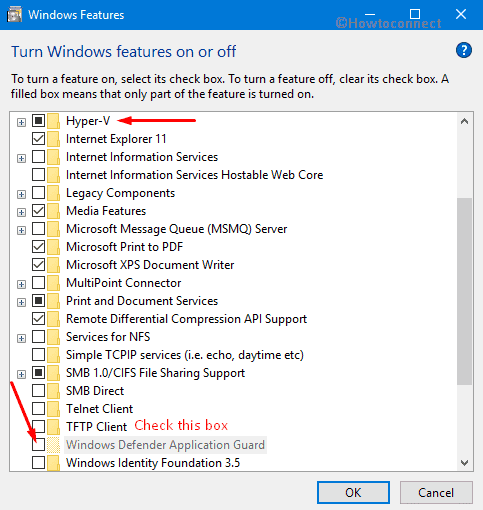 Note: To enable Isolated Browser Environment in Microsoft Edge, you have to turn On "Hyper V" as well. In case, you find these two options to be grayed out, then you have to first activate virtualization in your 'UEFI firmware settings'.
See 5 Ways to Open Hyper V Manager in Windows 10.
Step-6: Once the system complete your request, click Restart now button to make the changes effective on your Windows 10 device.
Step-7: After successfully enabling the above feature, you can now access Isolated Browser Environment in Microsoft Edge. So, launch Edge browser by hitting its icon that occurs on the taskbar.
Step-8: Click the three horizontal button (. . .) and choose New Application Guard window as shown in the below picture.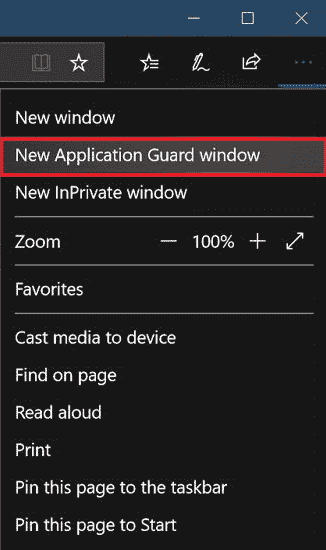 Step-9: Finally, you will see a new virtualized environment that will completely isolate the web browsing session from your PC.
Way-2: Using Windows Features
On Cortana search field, type Windows Features. Click 'Turn Windows features on or off' that comes into view as the Best match.
In the 'Windows Features' dialog, checkmark both the options Hyper V and Windows Defender Application Guard and finally hit the OK button.
Click Restart Now button on the wizard that tells you that Windows completed the requested changes.
Now, open Microsoft Edge and click the three horizontal dots (. . .) on the upper left.
From the list of options, click "New Application Guard window".
Now, it may take a while to commence if you are using the Application Guard for the first time. However, the further sessions will open more swiftly.
Once you Enable Isolated Browser Environment In Microsoft Edge, the built-in browser will assist you in browsing untrusted sites. It will use a separate Hyper V container for that purpose. This feature will separate the environment from the main installation of Windows 10 which eventually protects your computer from the sites that make an attempt to deliver malicious code on your PC.
Core features of Isolate Browser
Uses the latest virtualization technology to safeguard your OS and Microsoft Edge from any attacks or malware by creating an isolated environment.
When you enable Isolate Browser Environment In Microsoft Edge, the device will be protected when you make an attempt to access any non-work associated web page.
No matter what kinds of website, types of downloaded files that you use in the isolate browser environment, it will automatically delete when you log out Windows.
What are you waiting for? Quickly Enable Isolate Browser Environment In Microsoft Edge and make your computer and browsing experience safer!!!