You will be delighted to know that you can now directly Remove Individual Cookies in Firefox. The Privacy & Security settings of this web browser include a new option in this concern. Cookies are the information like ids and passwords that websites stores in the browser for future use. No doubt that, they are completely helpful for you but at present, some culprits are stealing your important data through Firefox.
Tip: Read another tutorial of the browser How to Override Automatic Cache Management in Firefox.
How to Remove Individual Cookies in Firefox in Window 10
Microsoft keeps on putting all its efforts to make Windows 10 the best one. Web browsers like Firefox joined in the race to make its infrastructure more secure. With the release of its latest update, the browser is offering options to Remove Individual Cookies in Firefox. Let us head towards the steps and keep your information safe by clearing out the cookies for a particular site.
Step-1: Launch the Firefox browser on your computer and open the Menu clicking 3 horizontal lines from the top rightmost corner. List of items will come down, click Options and a new tab opens up in the browser.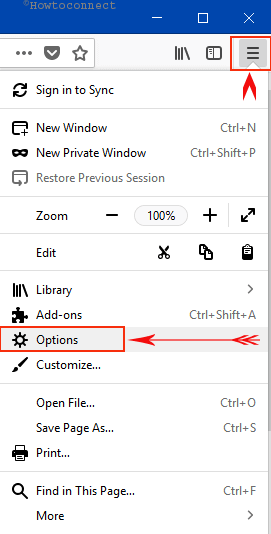 Step-2: From the left pane, select Privacy & Security panel. On the adjacent right pane, additional security items will be shown in order.
Step-3: Scroll down slowly and click on remove individual cookies under History section as indicated in the given picture.
Step-4:  It will open a pop-up with title Cookies.
Step-5: In the search box, type in the name of the website whose cookies you prefer to clear off. The browser will show the list of possible matches. Check the cookies you wish to get rid off and then click on the button namely Remove Selected (see screenshot).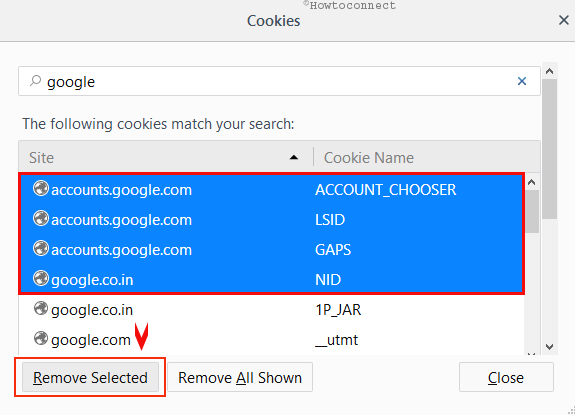 Step-6: You can also select the matched cookies by selecting the first one and then pressing Shift + End hotkeys.
Step-7: After clearing out the desired ones, click on Close to get out of the dialog.
Therefore, changes will come into action and it will Remove Individual Cookies in Firefox in Window 10.
Read one more feature of this amazing browser here – How to Turn off Pocket in Firefox 57.
Squaring up
While visiting websites, sometimes we need to input username, passwords, and other information. Web pages stores these data in the browser which terms as cookies. For some obvious reasons, cookies have become the easiest means to steal personal information from the browser. Firefox is a very safe browser and popular to people. Authority doesn't want to cut loose the reputation hence they have introduced the option to Remove Individual Cookies in Firefox. It will facilitate the users to eradicate cookies from suspicious websites at the same time they can leave others rest. So, use these steps and manage the cookies in your way.