Chromium Microsoft Edge Insider Dev Version 75.0.139.4 is released a short time ago. The browser update includes 2 important bug fixes which led it to crash. Recently, Microsoft came up with 3 channels for the insider version of Edge – Canary, Dev, and Beta. The first 2 are available for Windows 10 whereas Beta is yet to be released, however, Coming soon badge indicates that it will attend in near future.
Canary version of the browser gets update on everyday frequency and Dev weekly. The Beta, after rollout, will be updated on every 6 weeks. This release mainly contains changes from Chromium 75 but does contain two notable bug fixes as well.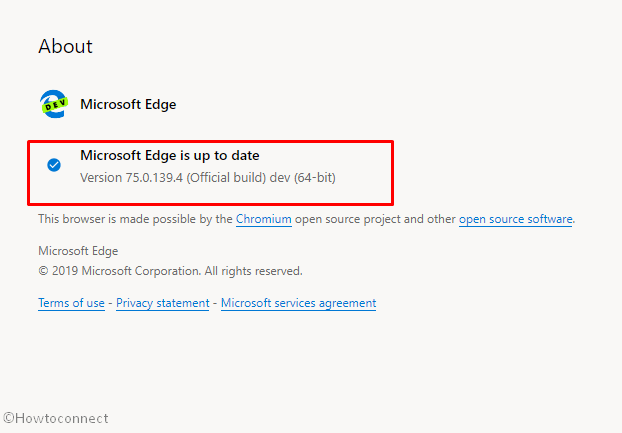 Microsoft Edge Insider Dev Version 75.0.139.4 Fixes
Here are the fixes and improvements that Microsoft Edge Insider Dev Version 75.0.139.4 brings –
Fixed a crash when viewing a security certificate in F12 developer tools.
Fixed a crash which prevented the browser from shutting down cleanly after the first time it is run.
How to get the update on Edge Insider
You can update Microsoft Edge Insider Dev or Canary through Settings and more (Alt+F) > Help and feedback > About Microsoft Edge. Then restart the browser to complete the installation of the update.
See – How to Update Chromium Microsoft Edge Browser
Current update status the browser –
Microsoft Edge Dev – Version 75.0.139.4 (Official build) dev (64-bit)
Microsoft Edge Canary – Version 76.0.147.0 (Official build) canary (64-bit).
The browser provides to install applications from outside stores –  How to Allow Extensions in Microsoft Edge Chromium From Chrome Web Store.
With a little tweak, you can How to Enable Dark Theme in Chromium Microsoft Edge.
New tab page lets you customize to see more relevant stuff. You can follow in this concern – How to Personalize New Tab Page in Chromium Microsoft Edge.
Similar to Chrome Edge provides a Reset tool that helps to restore it to the default settings. This is useful when a threat or infection affects the browser. So Pursue the guidelines here for this – How to Reset Chromium Microsoft Edge Insider Preview.
Source – techcommunity