Near Side of the Moon Theme for Windows 10 is a good opportunity for nature lovers. You might have inclination to desktop wallpapers of cosmic bodies is eternal whether it is the sunsets, sunrise, stars, or the moon, humans. Keeping this as the basis, Microsoft has developed this Theme to beautify your screen. The Windows 10 theme contains total 16 images describing the magnificence of moon, the only natural satellite of the earth. The high-quality HD images make people think how can a heavenly body look so beautiful without its own light (as the moon reflects sun's light).
The images in this theme can only be used as a wallpaper. The best part of this is that you can change the background picture of your desktop according to the moon's phase in the sky. This being a new theme – released on 28th June of this year – contains newest wallpapers, your friends or peers might see these wallpapers for the first time.
Related – Raindrops and Dew Theme for Windows 10 (Download) by Stojanoski Slavco
Near Side of the Moon Theme for Windows 10
Here is How to Download Near Side of the Moon Theme for Windows 10 –
Downloading Near Side of the Moon is very simple. In order to get this wonderful theme of 9.67 MB, you need to visit the Personalization section of Microsoft Store and then, select Themes. Or you can download it directly from their official website. Remember that before installing it on your Windows 10 device, you should be signed in to a Microsoft account (of course yours). Here is the detailed procedure –
Step-1: Visit the official website link of Near Side of the Moon.
Step-2: Click on Get so that the system can bring up the Microsoft Store.
Step-3: Once it comes into the view, again click on Get to initiate the downloading process.
Step-4: Wait until the system finishes the process. Upon completion, you will view the Launch button, do click on it.
Step-5: Now, you will be redirected to the Settings app. From there make a click on Near Side of the Moon located under Apply a theme.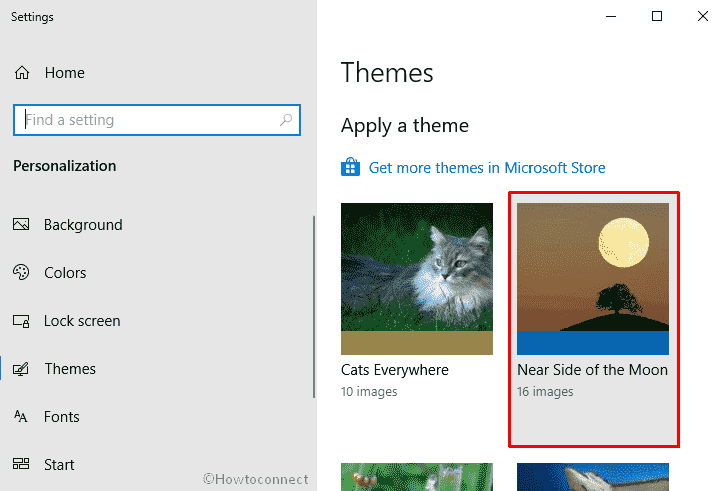 You are done!
System Requirement
To install Near Side of the Moon Theme, your system should be running on at least Windows 10 v14951.0. The architecture of your computer should be x86, x64, or ARM. These are both minimum and recommended requirements for getting Near Side of the Moon Theme for Windows 10 in your PC.
That's all! Till the time of writing this article, more than 85% percent of users have given it 4 and 5 stars and made the average rating 4.3 out of 5. Hope you will enjoy it too.
That's all!