Here you will find the ways to Download and set Raindrops and Dew Theme for Windows 10. Computer users look for different kinds of wallpapers to enhance the appearance of their PC. Though there are varieties available in the Microsoft store, those close-to the nature would definitely love to try Raindrops and Dew. This theme is an incomparable artistry of creation by the renowned photographer Slavco Stojanoski.
Today, when everyone wants a little peace in their lives, Raindrops and Dew Theme for Windows 10 promises a bit of that. Its 10 High Definition wallpapers hold the beauty to calm down anyone. All the images in this theme are ready to be set as Desktop Wallpaper. Besides being published and developed by Microsoft Corporation, the best thing with this theme is that it is available free of cost. Moreover, this theme can be installed on a minimum of 1 and maximum 10 devices running on Windows 10.
Read – Cats Everywhere Theme for Windows 10 (Download)
Raindrops and Dew Theme for Windows 10
Here is how to download Raindrops and Dew Theme for Windows 10 by Stojanoski Slavco –
Downloading it is quite easy; the user just needs to visit the Store and go to the Themes section in the Personalization department. But Before starting make sure to sign in to your Microsoft account.
Step-1: To initiate the process, navigate the official link of Raindrops and Dew by Stojanoski Slavco. Once to reach there, do a click on Get.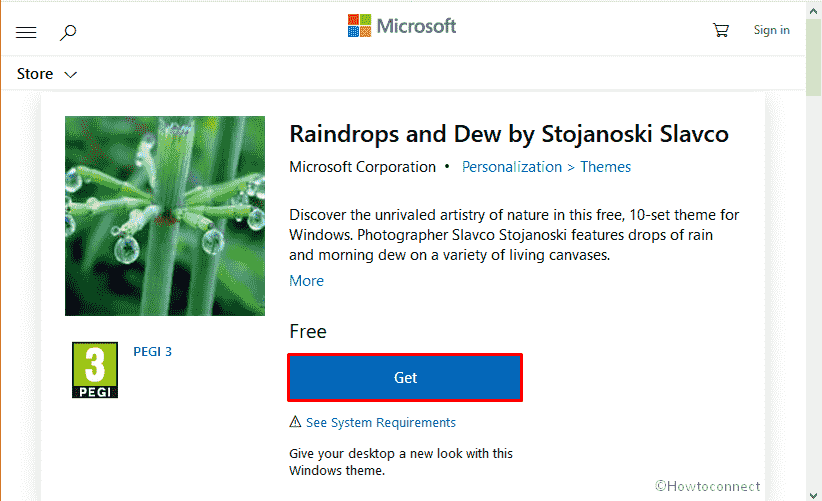 Step-2: Next, Microsoft Store Window will turn up in the display. Again, press the Get button in order to start the downloading.
Step-3: Once it's done, do a click on Launch.
Step-4: Now you will be redirected to the Themes Settings page. From there make a click on Raindrops and Dew by Stojanoski Slavco to Apply it.
System Requirement
Raindrops and Dew Theme for Windows 10 weighs 10.18 MB beautifies numerous computers. It is available In different versions of the English language. For example, for people of US, it is available In English (United States), people living in Nepal Can get it in English (Nepal), and so-on. When it comes to-the minimum and recommended system requirements for Installing this theme, you must have –
A PC running on at least Windows 10 v14951.0 or higher Operating System.
The supported architectures are x86, x64, and ARM.
Now enjoy the images showing the Dew droplets or raindrops on green plants and leaves which is enough to brighten your day.
That's all!