Ways to Use CryptoMix to Protect Windows 10 PC From Ransomware. – Avast in collaboration with CERT.PL has a solution to protect your Windows 10 PC from ransomware, CryptoMix. CryptoMix includes many pseudonyms such as CryptFile2, Zeta,  CryptoShield and you can use it offline. You know Avast already offers a cluster of Ransomware decryption tool for Windows PC. See all info about this danger here – Ransomware Symptoms, Removal, Prevention, File Recovery Tips.
What is CryptoMix?
In 2016, the ransomware CryptoMix was first marked in the devices. As early as 2017 the makers of CryptoMix renamed it to CryptoShield. In present times, CryptoMix is using RIG exploit kits to harm its users. Follow this article to learn instructions for Decrypt EFS Encrypted Folders and Files on Windows 10.
When you Use CryptoMix to Protect Windows 10 PC From Ransomware it decrypts the affected file. CryptoMix Ransomware starts its action as soon as it reaches your device. It first goes to the Command and Control section of the server. Then it attempts to institute a key in order to encrypt the files. Now supposedly the system has a connectivity issue or if the server is not available then CryptoMix uses another method. In such a case, it starts encrypting the files with the help of its fixed keys. The synonym of fixed keys is Offline keys.
CryptoMix to Protect Windows 10 PC From Ransomware
To safeguard your PC a  decryption tool is developed by Avast. This tool helps to decrypt the files only with the help of offline keys. A few ransomware doesn't use offline keys while encrypting to threat and infect your PC. In this case, this tool cannot help you in the decryption of the files.
When you need to identify the CryptoMix you can get the help of file name extensions. These kinds of ransomware usually includes the extension names such as  .scl, .rscl, .lesli, .rdmk, .code, .rmd or CRYPTOSHIELD. These new file extensions are added to the original file names. It is interesting to know that ransom notes are found in the file with the following name
HELP_DECRYPT_YOUR_FILES.HTML, # RESTORING FILES #.TXT, etc.
Use CryptoMix to Protect Windows 10 PC From Ransomware
Step 1 – Download this Decrypter tool and install following the On-screen instructions.
Step 2 – Add a Drive under Select location (S) to decrypt and select Next. Moreover, You can Add Local Drives, Network Drives or Folder here. After the selection is complete, click Next.
Step 2 – Enter the path of the affected file twice as two boxes are given. Check the I know the password for Decrypting file if you have the password. Click Next.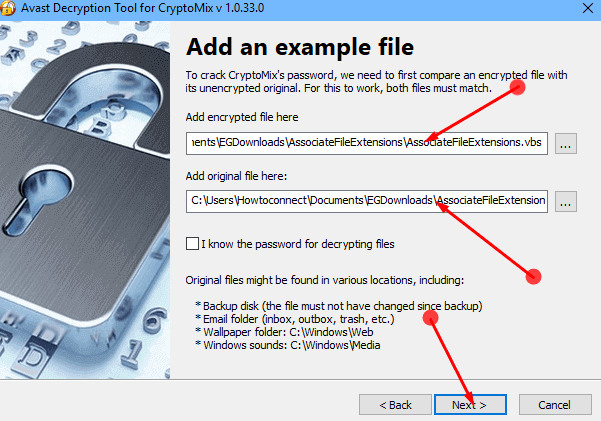 Step 3 – If you have checked the password box, you will get the box to Enter the password on the Decryptor tool dialog box.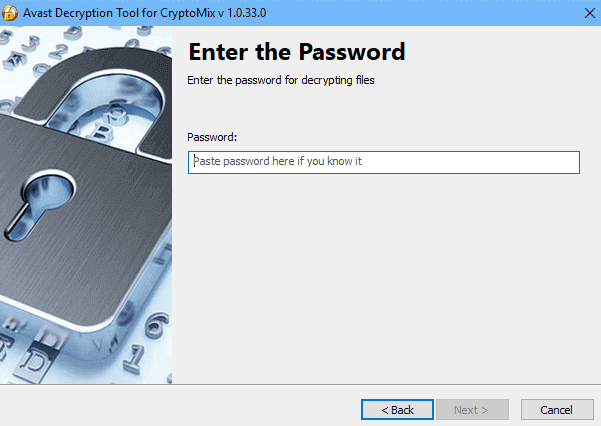 Quickly the tool will kill the Dycriptomix in the file.
Ways to Protect yourself from Ransomware
Here are a few methods that may help you to defend your device from ransomware.
Way 1 – The most important tip is to be alert while downloading any links or attachments. It is always advisable to download anything from a recognized and trusted site. Without a fail, you should check the origin of your email before downloading any attachments.
Way 2 – Ensure the installation of antivirus in the device you are using. It can shield the device from any ransomware in the case of accidental downloading.
Way 3 – Try to always keep a backup of your important data. It is noteworthy here that try not to keep the backup connected to your device. Otherwise, there is a probability of ransomware to infect your backups too. Pursue the procedures indicating to Windows 10 – How to Use File History to Backup Data Step by Step.
Conclusion
So, safeguard your PC with the guide How to Use CryptoMix to Protect Windows 10 PC From Ransomware. A small action like staying alert can help you defeat this advanced virus attack. But even CryptoMix infects your device then you can definitely try the Avast solution.