Within this week, insiders will experience the second update – Windows 10 Build 18348 (19H1) in Fast ring. The build includes a solitary feature Emoji 12.0 and multiple fixes such as for Start menu not launching problem, Edge crashing, and other.
You will get Windows 10 Build 18348 automatically if you have chosen Fast ring. Still, you haven't received then go to Settings => Update & Security and click on Check for updates.
Windows 10 Build 18348 Feature and Fixes Details
Emoji 12.0 Update
The current Build 18277 introduced Emoji 12.0 which was finalized in early February by Unicode. You will experience the emoji now having keywords hooked up. These include ballet, otter, sloth, shoes, waffle, and more.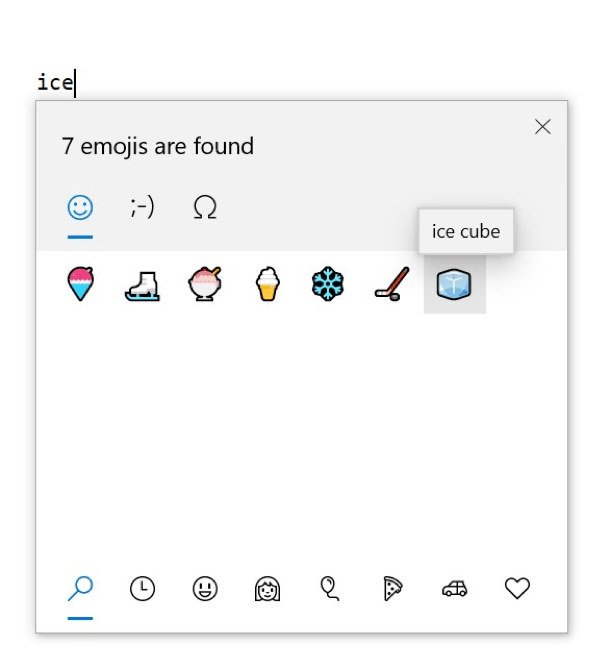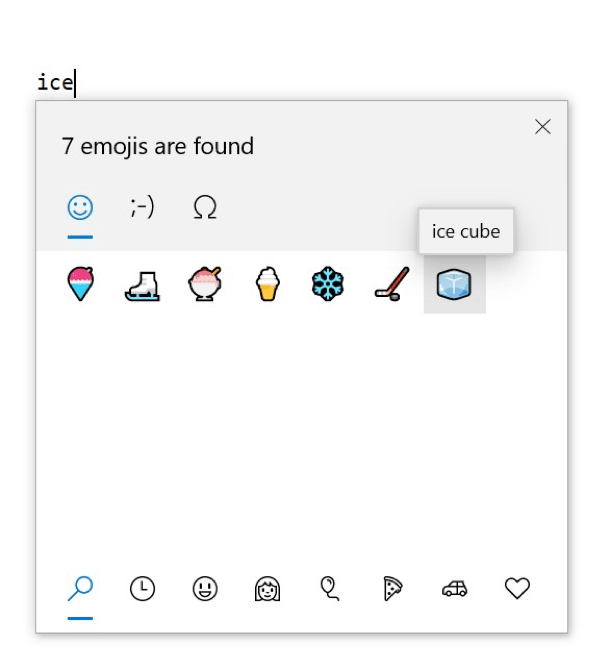 In the emoji picker, searching for ice will display 7 results, one of which is ice cube (new emoji).
Also, try the new Symbols and Kaomoji section in the picker.
The picker provides 3 sections – emoji, kaomoji, and symbols.

Windows 10 Build 18348 General changes, improvements, and fixes for PC
The build put some adjustments to improve WIN+(') reliability.
Windows Insider team solved the Start menu not launching problem. This issue occurs when the GPO turn off the all apps list in Start policy was enabled.
They solved Edge browser launching in inPrivate mode by default Microsoft Word web tile pinned to Start (when Office wasn't installed).
The build fixed Microsoft Edge at certain occasions crashing when editing or tabbing through PDFs.
Windows 10 Build 18348 changes to improve cloud clipboard (if enabled) synchronization reliability.
It fixed lock screen that unexpectedly doesn't get dismissed until Ctrl+Alt+Del was pressed.
Windows Insider team resolved high contrast mode won't persist the first logon when it was enabled during Windows setup.
Important – The build is rolling back the new Settings header to 50% from 100% to 50% on Home and non-domain joined Pro. This is for testing side by side comparison to evaluate quality. We'll let you know when the rollout increases again.
The Windows 10 team fixed the text cursor that didn't remain at the position when starting reading in Microsoft Edge while Narrator continuous reading.
The build includes solution to Down arrow navigation of Scan mode in Narrator that might get stuck when reading in the browser Google Chrome.
Update fixed Settings app crashing during Windows Sandbox when navigating to the Narrator settings.
Known issues
The prevailing issue bugcheck (GSOD) may occur when launching games that use anti-cheat software.
Creative X-Fi sound cards are not working correctly. Microsoft is partnering with Creative to settle this issue.
They are investigating night light space problem.
Some Realtek SD card readers are not working correctly. They are also investigating the issue.
The color of Mouse pointer might be automatically changed to white after signing out and then signing in.
For 3rd party applications to adjust the color of the screen, they have made a fix. in this build. Some apps of this kind were no longer working. The insider team is continuing to investigate feedback in this space.
In the Color management app, monitors may be missing.  As a solution, kindly use the Settings application to select color profile instead, under the Display Settings page.
Many games in the Chinese version are not working, the team is investigating the issue.
They are also sniffing around an issue where region settings are being reset on upgrade for certain Insiders.
Known issues for Developers
If you received any build in Fast ring level and then attempt to switch to the Slow ring, optional content, for example, enabling developer mode will no longer work. You will need to persist in the ring to install/add/enable the content. The reason is optional content will only install in builds targeted for particular rings.
REMINDER: Getting the latest Windows 10 app updates
Microsoft has locked down the inbox apps for the upcoming Windows 10 1903. Their simplified versions will come with the release of the April 2019 update. Therefore Windows Insiders may have noticed certain features missing from these apps. This situation may occur with Photos app. But Insiders can restore these features by navigating to the settings of the inbox app and selecting the Join preview button.
Source – Windows experience blog.