Beta channel of Windows insider has received a feature-rich build today. The update includes Theme-aware tiles in Start, ALT + TAB between apps and sites, more personalized Taskbar, Improved pinned sites in Edge, tablet, and MDM experiences. Windows 10 Build 19042.421 or KB4568831 carries a big collection of improvements as well.
You will receive the build automatically if you have opted for the Beta channel in the Windows insider program settings. Here you will find what Windows 10 Build 19042.421, a part of the upcoming 2009 version brings.
Windows 10 Build 19042.421 Beta Channel
Herre Windows 10 Build 19042.421 Beta Channel 20H2 KB4568831 changelog –
Features
1. Theme supporting tiles in Start
The build comes up with a streamlined modern design of the Start menu. Solid color backplates that were located under logos in the app list are dislodged. New design of the Start menu has applied a uniform background that is transparent to a certain extent to the tiles.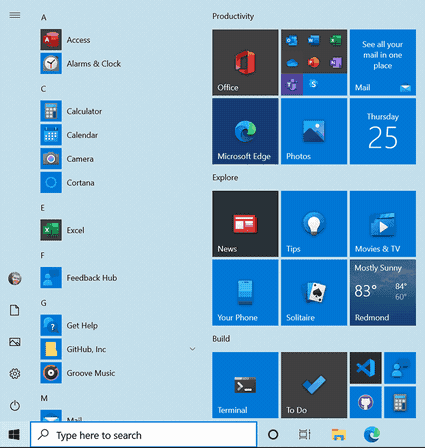 2. Use ALT + TAB to switch to apps and sites
Microsoft Edge will show all the open tabs on the Alt+TAB page. Furthermore, you can configure this appearance through Settings > System > Multitasking. From here, You are able to select to show the last three or five tabs or turn this feature off completely.
3. Pinned sites improvements in Microsoft Edge
With this build have the ability to quickly access tabs for the pinned sites. Taskbar pinned site will display all open tabs for that website across every Edge browser window on only a click.
4. Decluttered and personalized Taskbar for new users
The taskbar in this build is cleaner, decluttered, and more personalized. Even in the Notification area, you can click on X on the top right corner to quickly dismiss a notification.
The summary toast and Focus Assist notification are again disabled by default in the setting as it was previously configured.
5. System shifted from Control panel to Settings
System on Control panel is shifted to the About tab in System category of Settings. The future build will make the device information copyable and streamline the security information on the About page.
6. Better tablet experience for 2-in-1 devices
While switching into tablet mode you used to come across a confirmation notification when detaching the keyboard on a 2-in-1 device. Now you will not get it as the related setting is disabled by default. You can change again through Settings > System > Tablet. Furthermore, the Tablet mode is removed from the Quick actions on the Action center.
7. Modern Device Management (MDM) improvements
In this build, an administrator can bring granular changes to a local group on a managed device.
Windows 10 Build 19042.421 General improvements and fixes
Windows 10 Build 19042.421 Beta Channel fixed the error messages in the English US (en-US) language despite choosing the non-English. You encountered the problem when you install a non-English language pack before receiving the most recent LCU. This fixed.
A toast notification was prompting at the reboot when updating from Windows 10 v2004. Now the error no longer occurs.
The build fixed non-English strings don't appear problem, which might affect the text on the tiles of the Start menu.
Update solved sharing not working in Microsoft Office when Conditional Access is enabled.
The update resolved 3rd-party app loading hidden tabs into the Internet Options problem.
Windows Insider developers fixed the Microsoft Edge IE mode mess up that happens when you launch multiple documents from a SharePoint website.
Insiders experts solved the problem coming when browsing through anchor links during Microsoft Edge Internet Explorer mode.
They solved an issue with pasting mixed content of text and images into MS Word from the browser Internet Explorer.
Microsoft browsers such as Edge and I.E incorrectly sidestep proxy servers. This build has fixed the issue.
You couldn't choose a VPN interface on Windows Push Notification service so as to make outbound connections. Subsequently, the connectivity with the WNS service was lost when forced tunneling was used. Windows 10 Build 19042.421 fixed this issue.
You might have encountered Magnifier stops working in Excel in certain scenarios. Consequently, Microsoft Excel might also stop working. The issue is fixed by the current build.
You might encounter some problems when installing .msi applications. This problem takes place when a device is managed by a Group Policy that redirects the AppData folder to a network folder and the update has fixed it.
After you configure a certain non-HDR device for HDR Streaming you might experience content darker than expected. Windows 10 Build 19042.421 has solved the issue.
The developers resolved an issue that causes new child windows to flicker. It also looks white color squares shape on server devices which are configured for stark visual contrast.
The build has resolved the Settings page that closes unexpectedly. The problem prevents the default apps from being set up properly.
Update settled all open UWP apps that close unexpectedly. This problem takes place when their installer calls Restart Manager to restart File Explorer.
Build solved projecting to a secondary display problem using Windows 18.1 apps problem that occurs when the apps use the StartProjectingAsync API.
Insider developers fixed time limits, activity reporting, and other problems in family safety on ARM64 devices.
Build resolved File Explorer preview of .msg files problem that occurs when Microsoft Outlook 64-bit is installed.
Current Insider version resolved stop error KERNEL_SECURITY_CHECK_FAILURE (139) occurring when Windows comes back from Sleep and turns on certain Bluetooth headphones.
It fixed graphics driver reset utilities that don't reinstall the same driver properly on the system.
The experts there fixed a reliability issue in WDF01000.sys.
They solved memory leaks that occur when an application calls "CryptCATAdminCalcHashFromFileHandle()" function. The leaked memory is claimed back when the application closes.
Windows 10 Build 19042.421 Beta Channel enhanced support for "non-ASCII file paths" for Auto Incident Response in Microsoft Defender Advanced Threat Protection.
Update solved the systems that were automatically going to Sleep mode under some circumstances due to Microsoft Defender ATP Auto IR.
They resolved some machines problem that led to running Microsoft Defender ATP Threat & Vulnerability Management successfully.
Insider developers solved Microsoft Defender ATP that couldn't apply file exclusions in some cases, which causes application compatibility problems.
The experts solved the Microsoft Defender Advanced Threat Protection problem due to which reporting the installed applications to Threat & Vulnerability Management was not possible.
Windows Insider developers settled automatic investigations that stopped working in Microsoft Defender ATP.
The current build makes Microsoft Defender ATP's ability to identify malicious code injection activities better than before.
The update fixed some applications issues due to which printing was not possible through network printer.
It fixed printer that goes to a hidden device menu in Device Manager after a restart.
The developers of the build solved the Print Management console that shows script error after turning on the Extended View option.
They fixed the printing fail problem in certain scenarios.
Current build Windows 10 device can not reach the internet when using the WWAN LTE modem. However, the NCSI in the notification area might show that the connection is still active.
The build fixed cellular modem not connecting to internet problem after upgrading to Windows 10 2004.
The update solved telephony applications that lose the first four digits.
Windows 10 developers resolved memory parity bitmaps that can cause data integrity problems on Parity Storage Spaces.
They solved the storage pool is not created from Manage Storage Spaces in the Control panel.
Microsoft Remote Assistance process doesn't respond when a user was receiving help during a computer session. The error is 0xc0000409 or 0xc0000005.
Download Windows 10 Build 19042.421 x64, x86 from here.
Source – Windows Experience blog