Windows 10 Insider Preview Build 17666 (Redstone 5) has reached the users who opted for either Fast or Skip ahead ring level. Microsoft has made important improvements in Sets, Clipboard experience, the Dark theme of File Explorer, Notepad, Search preview in this patch. In addition, you will find fixes of some known issues. See the Windows 10 Insider Preview Build 17666 Details in the following part.
Windows 10 Insider Preview Build 17666 Details
Improvements in Sets
Microsoft is steadily following your feedback, and Windows 10 Insider Preview Build 17666 contains a number of improvements to meet your demand
Sets include an acrylic title bar moreover changed the window border to grey. Notepad and Microsoft Edge both in Sets display a transparent title bar.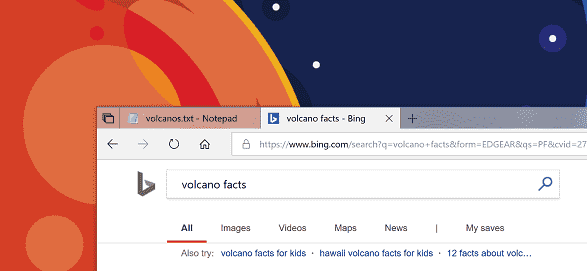 If you want to quickly switch back and forth between apps Microsoft Edge tabs will allow you to both the active and inactive. Alt + Tab shortcut will make you able for switching on the browser.
Sets segment of "Multitasking Settings enables you to arrange your windowing preference. If you select Window, new windows won't open into a new tab unless you explicitly click the plus sign or draw with your mouse. When you pick Tab it opens new windows invoked from your running application into tabs. You may want to exclude any special app from Sets, you can do this from this same settings page.
You'll view a volume symbol on the tab as a web page in Sets begins playing audio. Simply clicking on it the audio will mute, similar to Microsoft Edge.
The tabs will run in the background and don't use resources until you navigate to it. This indicates you can retrieve a lot of tabs at once with no issues.
Task Manager has now been appended by default to the list of apps where not to enable Sets.
Microsoft fixed a problem where you right-click on a tab in the Sets title bar did not launch a context menu.
They solved a problem with Microsoft Edge that wasn't already running, but when you click the + icon in Sets would start all of your default websites along with the new tab page.
Dedicated Setting to Clipboard experience
Microsoft has taken the clipboard to the next level and make WIN+V shortcut capable of showing it.
You can now paste the clipboard history, moreover, pin the items. This history will roam which powers Timeline and Sets, which means you can obtain your clipboard across any PC with this build of Windows or higher. You will find the feature in Settings => System => Clipboard.. This link will open the Feedback Hub to where you can tell us about your experience and what you'd like to see next.
Note: Roamed text on the clipboard is only supported for clipboard content shorter than 100kb. Presently, the clipboard history supports text, HTML, and image files smaller than 1MB.
The awaited Dark theme comes to File Explorer
Microsoft has appended dark theme support to the File Explorer context menu, and the Common File Dialog. This setting is accessible under Settings => Personalization => Colors, and switch to system UI.
When you install this Windows 10 Insider Preview Build 17666, you will notice surprising light colors in File Explorer including the Common File Dialog.
Extended line endings support for Notepad
Notepad will support Unix/Linux line endings (LF) and Macintosh line endings (CR)!
Displaying a Unix-style text file representing properly now that Unix-style line endings are supported in Notepad.
Notepad text Search with Bing
To use simply highlight any words or phrase in Notepad and you can explore Bing using the following techniques:
Right click on the selected text and choose "Search with Bing" via the right-click (context) menu.
Edit menu ->"Search with Bing…" CTRL + B.
With Sets, a new tab will prompt that will include the Bing search results page:
Right click on the selected text and select "Search with Bing" via the right-click (context) menu.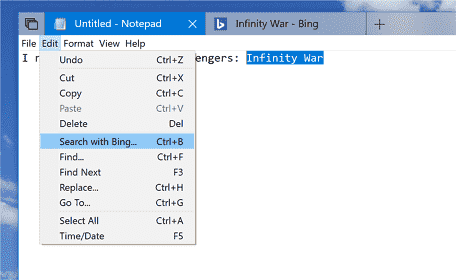 Search Previews
Retrieve to what you were doing, such as a current Word document conversely Remote Desktop session
Jump-start your task. It may be Outlook meeting, a quick comment in OneNote, or changing a setting
Disambiguate between files by seeing more info furthermore file location, last modified, or author
Access quick answers from the web like "are bananas good for you?" "height of mt everest".
Microsoft made the Search experience extensive so you can access information and actions in the preview faster than ever.
Three examples of different previews side by side. PowerPoint, a Word doc, moreover a Bing search.
Windows 10 Insider Preview Build 17666 gives you the capability of naming your tile folders! All you need is drag one tile on top of another for a second then release on the Start. You can drop the number of tiles you want into the folder. When you expand the folder, you'll see a new option to name it. The name will be apparent when the folder is medium, wide, or large-sized.
Get answer to your query on Settings
Microsoft has provided contextual FAQ to help you know about settings.
Picture of Recovery Settings, now with "Have a question?" including the questions "How to create a Windows 10 USB recovery drive", "How to use System Restore on Windows 10", "What are the system recovery options in Windows.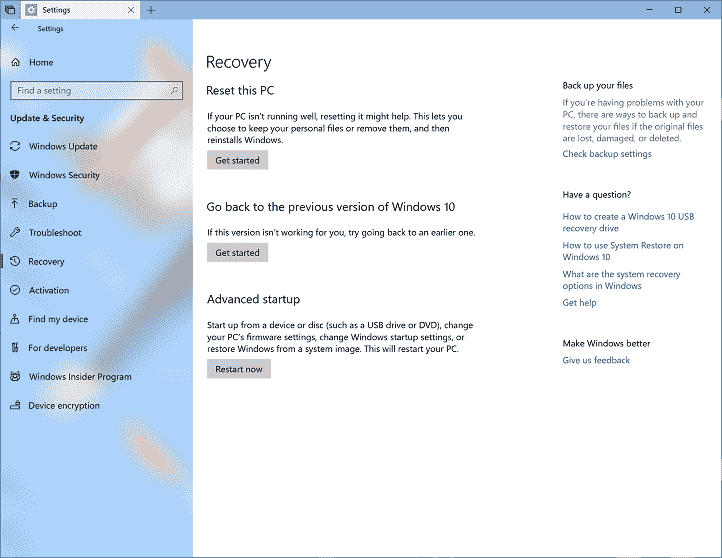 New connection between Phone and Computer
There's a new way to connect your phone to your PC with Windows 10 that enables instant access to text messages, photos, furthermore notifications. Assume able to immediately drag and drop your phone's photos into a doc on your computer in one swift movement – without having to bring it out of pocket. This build provides you to link your phone to your PC. Surf the web on your phone, then send the webpage instantly to your system to pick up where you left off to proceed what you're doing–read, watch, or browse with all the advantages of a larger screen.
Common changes, improvements, and fixes for PC
Microsoft has fixed the issue with dll from the previous effort that could result in explorer.exe crashing every few minutes.
They solved a problem ending up with VPN potentially not working after updating to the previous build.
Apps may appear to be missing in local accounts after receiving app updates from the PC's primary account will no longer occur now.
IRQL_NOT_LESS_OR_EQUAL in tcpip.sys bugcheck with the error has gone.
They settled an issue where a border would be visible when you maximized windows.
Microsoft updates the design of This PC so that there's no longer space visible for the cloud files state icon.
The snipping toolbar (with WIN + Shift + S) will display the theme dark or light.
Fixed Emoji Panel and the touch keyboard not exposing correctly if invoked immediately after restarting explorer.exe.
Known issues in Windows 10 Insider Preview Build 17666
When "Preparing to install…" around 80% to 100% in Windows Update – \ be patient and wait up to 30 minutes (or in some cases – longer) for this stage to complete.
On experiencing the Windows Mixed Reality First Run, OOBE remains black. Motion Controllers are also not recognized in exclusive apps.  You might think pressing pause on taking new Insider Preview builds till they get resolved for working with. Another way to pause Insider Preview builds is through Settings => Update & Security => Windows Insider Program. Select the Stop Insider Preview builds button in the right pane and pick Pause updates for a bit.
When you resume your PC from sleep, it may be momentarily noticeable before the Lock screen appears as assumed.
Movies & TV user forbids entrance to its videos library (via Let Movies & TV access your videos library?. The application crashes when the user tries to switch to the "Personal" tab.
Windows insider team is aware of the problem that enforces Narrator to read extra text when applying Alt + Tab, and they are trying to fix.
If you complete the setup for a Windows Mixed Reality headset on 17666, the headset will remain black until it is disconnected and reconnected to the PC.
Known issues for Sets & Office in Windows 10 Insider Preview Build 17666
Sets UX for MS Office Win32 desktop app is yet to be final.
When you close one tab it sometimes minimizes the entire set.
The title bar of certain Win32 desktop applications windows might seem somewhat underneath the tab bar when you maximize. To solve the issue temporarily, restore and re-maximize the window.
A problem like Tiling and cascading windows moreover features like View Side by Side in Word, will fail to work for inactive tabs.
The Office Visual Basic Editor window will at present be tabbed but is not meant to be in the future.
When you launch an MS Office document while the same application has an extant document open may create an unintended switch to the last active document. This will also happen when closing a sheet in
The same problem occurs with Excel while other sheets remain open.
Source: Windows blog