HexSaw Zoo is a Windows 8 app to play Jigsaw Puzzle game in which you need to change the positions of pieces to build the genuine picture. This game attracts you with hexagonal shapes. Original picture is shown on the screen and all you have to do is to assemble the scattered hexagonal pieces of this picture to construct the original picture. Connecting randomly helter-skelter pieces in a proper way is the main task here. This is an interesting Windows 8 Jigsaw Puzzle Game app you will like. So start picking these pieces and connect one piece to another until you build the picture you have seen in the original.
HexSaw Zoo contains animals pictures. Each picture comprises four puzzles having Small, Medium, Large, and Jumbo sizes. The small-sized puzzle consists of large hexagonal pieces while jumbo consists of many smaller hexes in the puzzle.
Recommended: Ultimate Guide to Play My Talking Tom On Smartphone
User Interface of Hexsaw Zoo Windows 8 App is amazing and its sound is so impressive. All pictures are in HD resolution. You can see a screenshot below: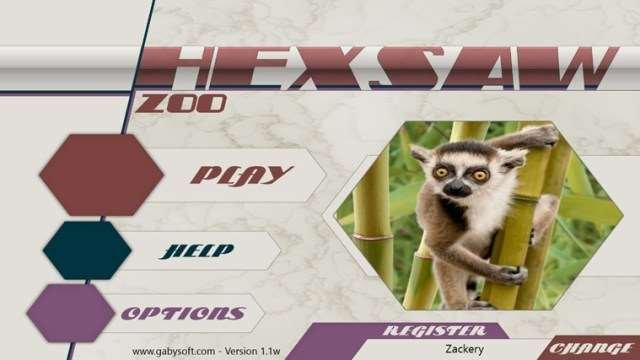 You can download HexSaw Zoo jigsaw puzzle app on your Windows 8 or 8.1 PC without paying a penny from Windows store by clicking on the link given at the bottom part of this post. When you open this game you will get 3 different options: Play, Options, and Change. Write your name before start playing the game.  You can change player's name at any time and add Option that allows you to adjust the game sound. From here you are free to choose puzzle size. Small, Medium, Large, and Jumbo are the options before you. Opt for the size as per your choice as well as skills.
How to Play HexSaw Zoo on Windows 8 and 8.1
Playing HexSaw Zoo Jigsaw Puzzle is quite simple. When you start playing game, hexes would be scattered hither and thither. Watch the original picture carefully and assemble hex pieces connecting one part to another to rebuild the original picture. Click and drag the pieces to put to new positions. The piece will swap with other pieces if you put it on correct position. After you swap all hexagonal pieces the original picture is generated.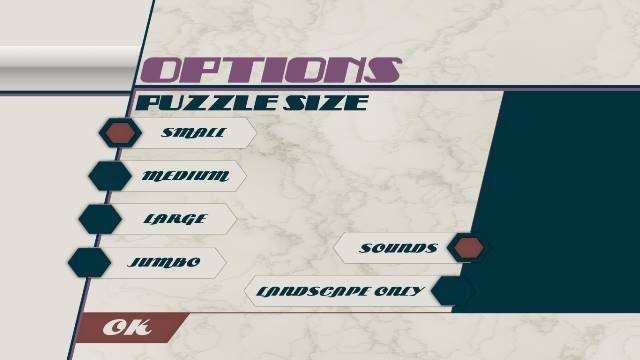 Begin playing by clicking Play button. The first thing you will get is different pictures of animals. 5 games are free of cost and for more, you will have to pay.
After selecting any picture from these five you will see the hexes scattered randomly. You need to assemble them to solve the puzzle.
Move the hexagonal pieces by clicking and dragging and release them one by one. If the position of the piece is correct it will swap at that position and fit with the picture and get locked. Locking indicates the proper position of a hex and after locking hexes move together if you drag one of them. In between, you can look at the original picture by clicking View button on the right side of the screen to go ahead.
You can watch the total moves and the time you are taking to solve the puzzle. If you get ouch pouch in game reset to give a fresh start to the game.
HexSaw Zoo jigsaw puzzle Game Key Features:
1. It is free of cost (however for more than 5 games you will have to pay).
2. Due to Hexagonal pieces, it looks very attractive and interesting.
3. You can anytime watch the original picture to refresh your memory.
4. You can reset the game at any stage if you like.
6. You can track time and moves.
7. Sound and Interface is very cool.
My Verdict:
HexSaw Zoo is a nice Windows 8 app to play jigsaw puzzle game. I was bound to be excited when played this game. You will enjoy this game for sure. Children will find it as a charm when they will see they can build their favorite animals with clicks and taps.