The Art Of Living is a free app for Windows 8 and Windows Phone. It tells you how to live happily without even feeling traces of different kinds of stresses. This new App is purely based on the spiritual humanitarian educational foundation which is founded by Sri Sri Ravi Shankar in the name of  The Art Of Living. This Application is developed to give you peace of mind when you are feeling stressed and so many discomforts.
This App helps you to make your body, brain relaxed, and made them reach some level of spiritualism. It works at different levels of the body mainly emotional, mental, and physical. There are so many categories in this App for removing the stress of your life and giving you a sign of spiritualism. The interface is kept very simple. It is designed in a very intuitive manner so that users find it very useful. A screenshot of this App is shown below: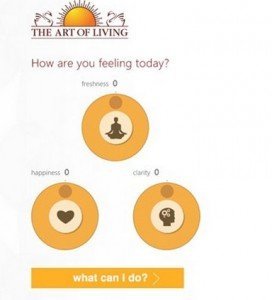 How to learn the Art of Living using this App
Once you have installed this app in your windows machine from the Lifestyle Category of Windows Store or from the link provided at the last, a window will pop-up like the above shown screenshot.
On this window, you will see a collection of different categories like Yoga, Meditation, Ayurveda, Music, Wisdom, and others. You can use any of the following categories to heal your body, mind, and soul. In the above screenshot you can see yourself there is some kind rating procedure where you can rate yourself your own inner feelings on different things i.e freshness, happiness, and clarity of mind. Once you are done with rating yourself on different parameters, this app will search for remedies that will suit you the best.
How to use this App to make yourself live in peace
This App mainly works on three levels of the body: emotional, physical, and mental. There is a category of Music in this App that consists of soothing melodies that help you in reaching the inner heart of yourself where you find peace of mind. There is a special category named "Wisdom" where you get pearls of wisdom by Sri Sri Ravi Shankar. These quotes fill you up with new productive energy. You can follow these pearls to make your life better and more fruitful. Listening to these beautiful quotes will provide you a sound sleep and you will forget almost all the stress with which you were currently going on earlier.
You can go inside any of the above mentioned categories to see what is inside of them.  The inside of each category consists something very fruitful for yourself. However, there are no such medication tips or methods mentioned inside the Ayurveda category which could cure any diseases from root. But there is something which could lessen the effect of disease to a large extent. In the yoga category, you can see several poses, sketches, their purpose, and benefits. There are some good collection of Videos too here to make you feel comfortable with some of the poses step by step instructions.
Key-Features of this App
It is Completely Free and very easy to use.

It provides different yoga poses with purpose, and contrariety.
It has sweet and very soothing melodies.
There are some free videos too for different yoga poses.
There are Ayurveda Tips and Methods of Medication which helps a lot.
It helps during different stresses like physical, mental, and emotional.
There are some beautiful wisdom quotes and step by step instructions.
Conclusion
The Art of Living is really a very nice app that could be used when you are feeling any type of stresses like emotional, mental or physical. This App makes your body and mind relaxed with the help of its beautiful and sweet melodies. In the modern days, where everyone is going after a rat race, this App proves to be a very fruitful app which not only relieves you but also gives you new energy to complete your work in a better way. Using this you could easily get a sound sleep which has become the necessity of our daily life.
How to get this App
If you are willing to have this software installed in your windows machine, you could have it downloaded from its official website provided below:
Downloading Link :
For Windows 8: The Art Of Living 
For Windows Phone: The Art Of Living