The Gunstringer has its original development as the Xbox Kinect game designed by Twisted Pixels having tremendous success. With his huge reputation in the gaming world it has entered into the mobile world with an app based for Windows 8 with all its spectacular features and graphics. It is a game that develops itself following a storyline where the main character the Gunstringer, a skeleton cowboy marionette who was back-stabbed by his former posse returns to take revenge with his trusty pistol and firm resolve for the wrong deed that was done against him. It was earlier decided to set a price for this app but for now it is a free app that can be downloaded from the play store.
The game starts with a theatrical imitation revealing the great story behind the legend. The controls are simple and require no sophisticated understanding. The game will surprise you with its beautiful choice of colors and animation. A screenshot of the screen in between the game is shown below: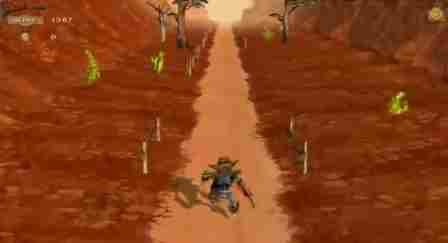 How to play this game
There are four main stages each divided into four sub stages making it a total of 16 levels. This version is a cut-out of the original version, but the theatrical theme and sound provides the perfect atmosphere for a game play. The game has an endless sprint and you just have to use the keyboard to dodge, jump and duck with the arrow keys while the space bar can be used to fire the frequently popping up targets and treasure chests. This game control is also compatible with the windows smartphones where you have to swipe accordingly. You have to tackle different obstacles and take fast shooting action as well as pillaging on the way.
The game maintains a leader-board so that you can challenge your friends into the game. You can also earn a diamond by playing for seven days in a row or buying them with actual money. These diamonds are useful and can be spend while making an achievement. There are customization available for powerful weapons that require loot.
Key Features of this app
Keyboard and mouse are supported. For touch-screen touch and tilt are also responsive.
There are different field setups and game modes with each presenting a unique and exasperating blend of the atmosphere for the game play.
You can get social experience by leaderboard support in this endless running mode and take challenges with your friends.
Purchases can be done for further customization of this app for more extensive and entertaining features either by playing for virtual money or with real.
Connectivity is great for all windows devices and it provides a great support.
Outfits and accessories are available for customizing the players only after spending the earned loot and treasure.
Reward style and amount changes with each level and continuous playing earn you more diamonds.
Updates for customization and other features will pop up with latest improvements.
Conclusion
Gunstringer is a nice run and chase gameplay. This is really a fantastic game to be played in leisure time. You will get a link below from where you can install this game to your windows machine.
Downloading link: Gunstringer