Scary Sounds is a free Halloween Windows 8 App. This app has been designed for scary sounds during Halloween. We all know Halloween is near to us, and once it comes, you would like to do some nasty things with your friends with scary things. This app would be the right choice for you. It will help you in making your friends scared to a new level. The most interesting thing is it caught them completely off-guard. This app can haunt anyone with its scary collections at night. It consists of hundreds of scary sound effects.
The interface of Scary Sounds app looks itself a little scary. However once sound is mixed with any of the images present here, creates a right combination which can make people frightened at their first sight. It runs very smoothly on your computer with no bugs and crashes. A screenshot of this app is shown below: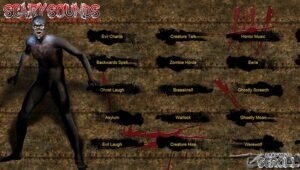 A link has been provided at the last of this article from where you can access this app.
How to use Scary Sounds app
Running Scary Sounds app after its proper installation will open a window like the above shown figure. Here on this page, you will be presented with a long list of scrollable scary sound effects, clicking on any of the sound effect will play the sound. The app has literally hundreds of scary sound effects that you can play to creep and scare your friends and family, thereby serving as a perfect Halloween app.
Scary Sounds app works to its best level when connected to powerful external speakers, as then the sound effects of this app are truly HQ. The speakers help in attenuating the sound produced in this app. In the above shown figure, you can see some of the sounds like Warlock, Evil Smile, Werewolf, Asylum, Eerie, Zombie Horde and many others. Just listen to each of them and choose the one which you think will frighten your friend the most. You can listen to them simply by clicking on any of them. To find even more scary sounds, you can scroll to the right on the screen.
It consists of no control bar as they are not required in this app. However, it also doesn't support a docked view which I personally feel not good. There should be a docked view too for this app so that we could do multiple things while thinking about the theme which we like the most with its scary voice. Other than that, this is really a beautiful and remarkable app for you, your friends, and your family members.
Key Features of Scary Sounds App
Fully free App.
Simple and easy to use Interface.
Produce Professional sounds.
Optimized for touch.
Doesn't support Docked View.
Consists of 100's of different scary sound effects.
Characters here could also be used as Halloween theme.
Additional sounds are coming soon to unleash the inner daemon.
Final Note
Scary Sounds is a fantastic windows 8 app devices letting you scare your friends in a completely new way on the coming occasion Halloween. Designers have made this app well carved and perfect. It could also be used as the theme of Halloween parties like ghosts, goblins, ghouls, etc. Overall this is a nice app and one should have this app for the coming Halloween this year.