It would be pure fun to edit favorite Video; later on share at social network. Video editing act leads to show imagination as well as skill to keep everything organized to make people smile. In technology driven world, there are plenty Video Editor Tools available to get Video editing project done. After observing a few Video Editor Tools, I voted to WeVideo. It is an online Video Editor Tool and needed to install on Chrome. You may get key specification of WeVideo in remaining tutorial.
WeVideo Tool lets users to edit Video Clips, Photos and graphics. The online video editor tool 'WeVideo' has nice integration to Facebook, Google Drive, Dropbox, Instagram and Flickr to bring Videos Clips, Photos and others files. On across editing Videos, you may add music, effects, text and themes. It has more than 100 awesome effects and audio clips to insert. You may split longer clips to make smaller clips with key moments.  Once act of editing is completed, you may publish / share edited Videos or Photos on YouTube, Facebook, Google Drive and Twitter.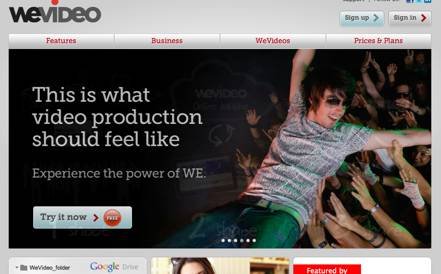 Seeing above mentioned 'WeVideo' specification, if you want to install particular utility then access Chrome Web store and install it. Either you may follow below placed link to install 'WeVideo' tool on chrome browser. In way of installing WeVideo, it does not require Google account integration. You have to click 'Add to Chrome' button followed by permission to access Google Drive to install it.
Download WeVideo (Chrome Extension)